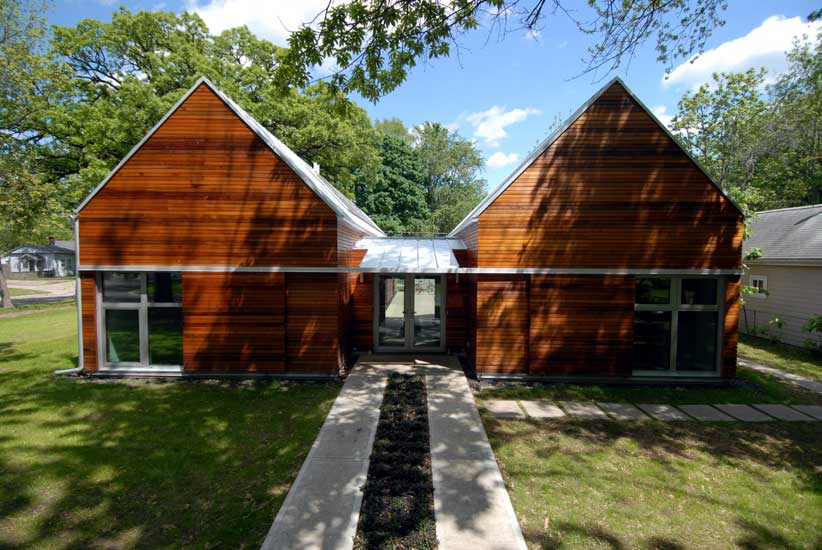 Project Name: 1200 Pennsylvania Street House, Kansas
Architectural Group: Studio 804
Principal Architect/Designer: Studio 804
Project Location: PENNSYLVANIA STREET, DOUGLAS
COUNTY, KANSAS USA.
Project Year (Duration): 2016
Built-up Area: 1600 sq. ft.
Project Type: Residential
Awards/Recognition: LEED PLATINUM CERTIFIED
Image Courtesy: COURTESY OF STUDIO 804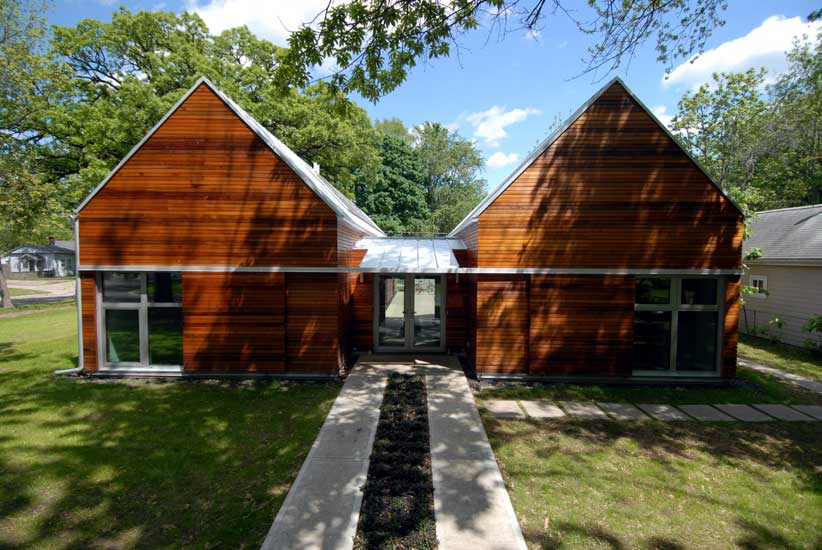 [dropcap style="flat"]T[/dropcap]here has been a trend toward empty nesters and retirees moving from the suburbs back to the urban amenities and proximities the suburbs do not offer. This house is on a north facing corner lot in a historic neighborhood a short walk from a grocery store, grade school, a community center and the cultural vibrancy of downtown Lawrence, Kansas.
It is a modern, two-bedroom house that is LEED Platinum certified and features an air tight, highly insulated thermal envelope, efficient light fixtures and appliances as well as a high-performance mechanical system.
These design characteristics in combination with a photovoltaic array on the roof and the proper orientation to take advantage of the sun and wind assure the owner little or no energy costs over a calendar year.
This all was accomplished while meeting the design requirement to build within the environs of a listed historic property nearby.
The house occupies a lot and a half and the extra space offered the opportunity to generously engage the site. Three gable forms create a south facing courtyard that is the focal point of the design as nearly every room opens to it through full height windows.
The courtyard is open to the sun but protected from the north winds and maximizes its use throughout the year. It also includes a rain garden that collects the storm runoff to support the growth of native plants and to allow the water to absorb into the subsurface of the site.
The north gable holds the living room and the two bedrooms, it opens through large windows to the courtyard and the concrete floors hold the heat from the sun that penetrates the space.
The western gable is adjacent to the alley and is a one car garage with storage. Between it and the north gable is a concrete tornado shelter. The eastern gable houses the kitchen and dining and is connected to the north gable by an entry foyer.
The unassuming forms, the standing seam roof, the half round gutters and the minimal trim detailing at the openings are all done to emphasize the visually rich texture of the horizontally run cedar which was reclaimed from railroad bridge trestles that have been dismantled by the logging industry.
Large panels with horizontally run boards that match the spacing of the rainscreen run on horizontal tracks. When closed, or partially closed, they filter heat gain from the sun while still allowing daylight to penetrate through the spaces between the boards. They also offer varying degrees of privacy depending on how they are used.
Additional Sustainable Features:
The house has extensive operable windows located so fresh air can easily be circulated through the house when the weather accommodates
20 photovoltaic panels are on the roof to power the house
All the appliance and light fixtures will be energy star rated
The entire building envelope, including the concrete floor, is super insulated and dramatically exceeds code requirements
The house is exceptionally air tight and captures all the heat produced by daily activities such as cooking and showering. It filters it and reuses it to heat the house. The building also needs much less cool air during the summer to keep the spaces comfortable as it acts like a thermos and does not allow the cool air to escape.
All the materials, paints, flooring, sealants and adhesives used inside the addition emit low or no volatile organic compounds
The framing is done with engineered lumber which is manufactured from fast growing underutilized lumber
The house uses high efficiency light fixture, mechanical systems and plumbing fixture to minimize the use of resources
High performance triple paned windows are used to assure air tightness
A brush on air/moisture/vapor barrier is used to achieve a high-performance building envelope
The house promotes carbon sequestration by using sustainably harvested wood for both the structure and the finishes throughout
Visit website for more details: Studio 804