How Architect Works (HAW Magazine) publishes awesome works from the field of Architecture & Design.
Started in 2012, it provides an online platform for Architects, Designers, Students, Researchers & Academicians, and related professionals to submit and display their works to the larger community.
Interested in showcasing your architecture + design project?
After the project is submitted, our editorial team shortlists the projects for publishing on the HAW Magazine website (hawmagazine.com) and its social media platforms.
………………………………………………………………………………………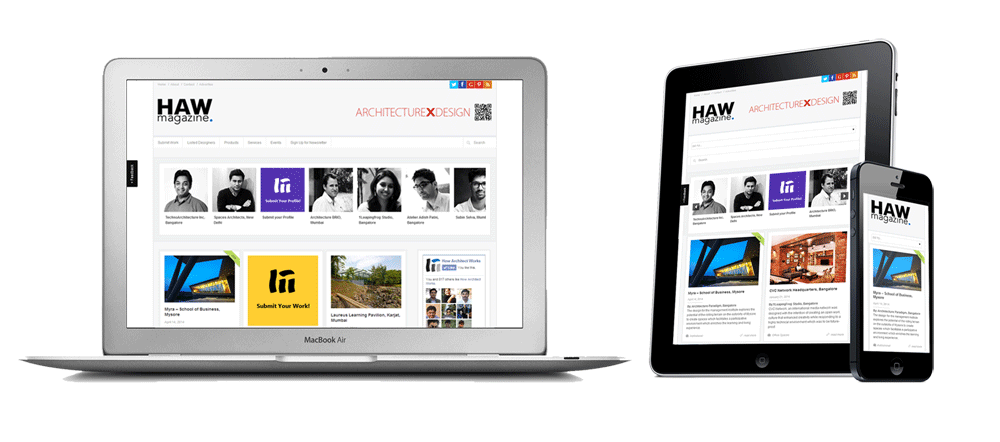 ………………………………………………………………………………………
Team@How Architect Works
Abhishek Upadhyay
FOUNDER | EDITOR
Abhishek is the Founder & Editor of 'How Architect Works' (HAWmagazine.com)
With an aim at providing a publishing platform to young and budding Architects, Designers, and Creative folks he founded 'How Architect Works' (HAWmagazine.com) in 2012. He has a bachelor's in Architecture and Master of Design from IIT Kanpur, specializing in media and communications. He is also the founder of the Wellness initiative OORJAKENDRA.com
Neha Srivastava
CO-FOUNDER | CO-EDITOR
Neha is the Co-Founder and Co-Editor of 'How Architect Works'.
She has worked as an Interaction designer & Human Factors specialist for leading IT companies & is a Certified Usability Analyst and Human Factors Specialist. She is a bachelor in Architecture and holds a master's degree in Industrial Design from SPA, Delhi.
Manish Singh
CO-FOUNDER | DESIGN CURATOR
Manish is the Co-Founder & Design Curator of 'How Architect Works'.
He is a passionate designer who designs for social change and has conducted workshops for design awareness in MSMEs. He has his Bachelors's in Architecture and a postgraduate in Design from NID, Ahmedabad, specializing in toy design.
Shaily Gaur
SOCIAL MEDIA | ACCOUNT MANAGER
Shaily is the Social Media & Account Manager of How Architect Works.
She has served as a delivery manager and Information security analyst for over a decade to ITES companies. She is a postgraduate in Business Administration, a certified German translator, and a social media freak.
Apart from the How Architect Works team, we have contributors across the country who provide us with valuable content from the field of Indian Architecture & Design.