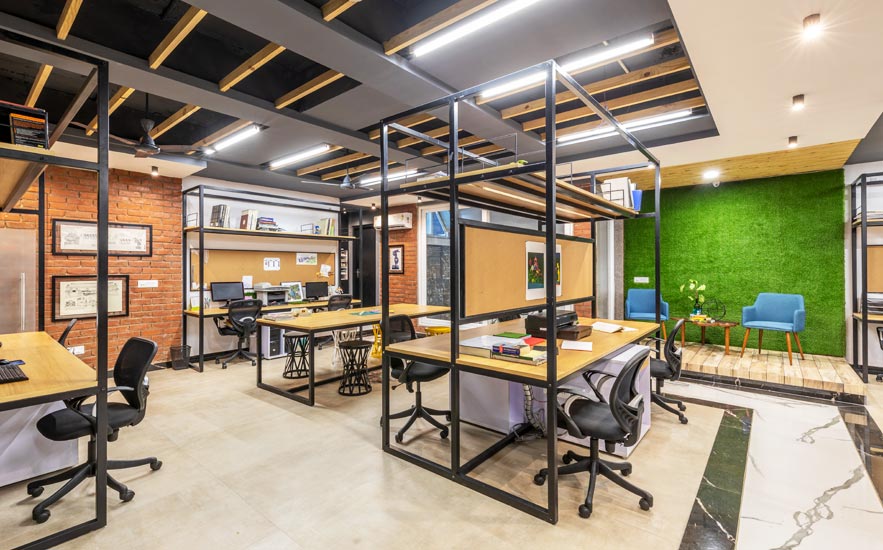 Project Name: AE Studio, New Delhi
Location: New Delhi – India
Typology:  Office Space
Architectural Group: Brickwood419 Design Studio
Architects/Designers Name: Sidharth Bhatia, Nirvaan Ghosh
Client: Mr. Sandeep Tandon & Mrs. Rashmi Tandon
Project Completion: 2018
Total Area: 2125 sq.ft.
Built-Up Area: 2125 sq.ft.
Image Courtesy: Brickwood419 Design Studio (Copyright) & Vibhor Yadav (Photographer)
[dropcap style="flat"]T[/dropcap]his architectural studio space was designed keeping the 'Walk of life' concept as a design directive with the industrial chic style central. It was extremely critical for the client to have a layout that almost unknowingly forced the visitors and clients to have a visual expanse of the whole office. As a result, the public/ staff washroom has been placed at the extreme corner of the office.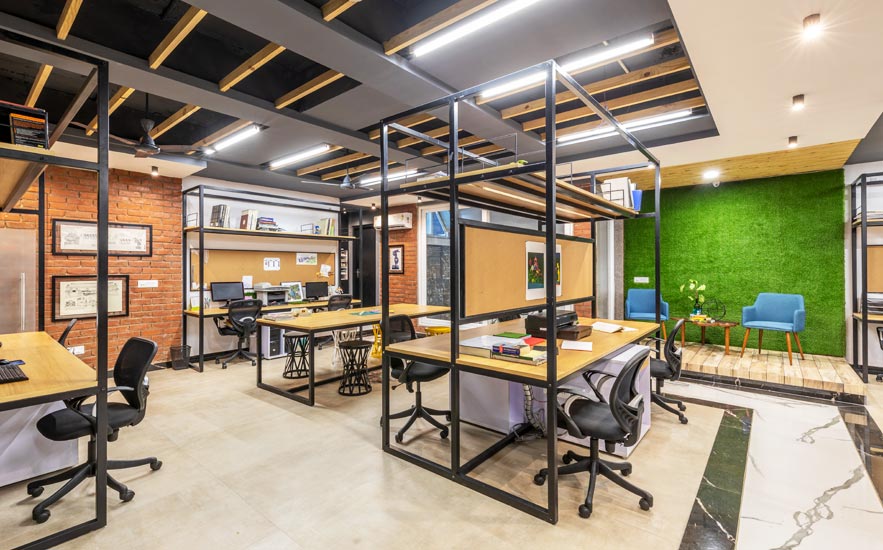 A visitor must walk through the staff area to reach the latter.
Executed in a natural raw palette, the studio also features a beautiful biophilic design that ties together the entrance staircase, reception lobby, and the staff area. The owner Mr. Sandeep Tandon wanted a more polished look for his cabin as well as the conference room, as a result of which a more clean & plush but warm palette was followed in these zones specifically.
Furniture has been custom designed and built to cater to the needs of each space independently.
On one hand, the thin frame metal work desks, exposed brick walls, and grass offer industrial feel to the office, the marble look tiles and modern light fixtures add a touch of luxe on the other.
Space was designed keeping in mind the scope for future expansion.
Awards/Recognition: Published on www.officesnapshots.com – https://officesnapshots.com/2018/06/15/ae-studio-offices-new-delhi/
About Brickwood419 Design Studio:
Brickwood419 Design is an architectural studio based in New Delhi, operating in the fields of architecture, interiors, PRODUCT DESIGN, and brand development. The company was established in 2013 and currently operates under the creative direction of the two founders Kanika Kaushal and Sidharth Bhatia.