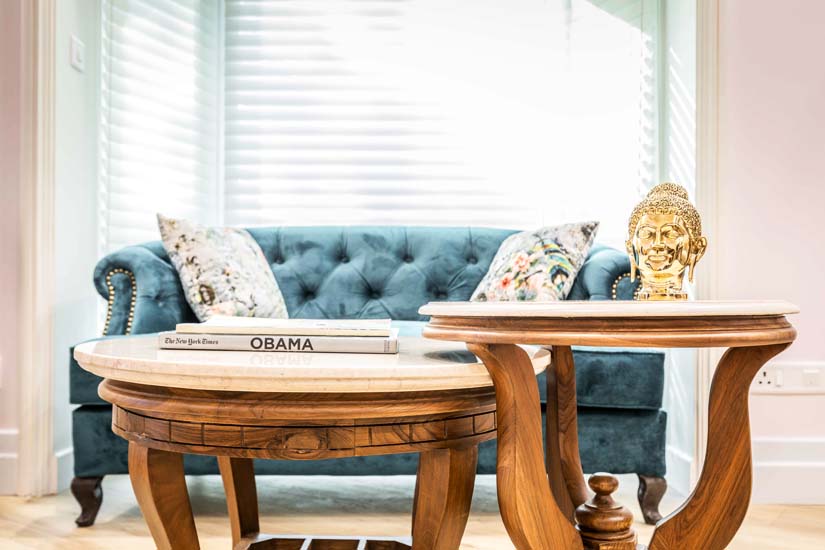 Project Name: Air Force Wives Welfare Association Headquarters – Santushti Shopping Complex
Location: New Delhi – India
Typology: Office Space
Architectural Group: Brickwood419 Design Studio
Architects/Designers Name: Sidharth Bhatia
Client: Indian Airforce Wives Welfare Association
Project Completion: 2018
Total Area: 2400 sq.ft.
Built-Up Area: 2000 sq.ft.
Image Courtesy: Vibhor Yadav
Image Copyright: Brickwood419 Design Studio
Brickwood419 Design Studio presents the timeless modern day – Early American inspired interiors at the Office at Santushti Shopping Complex, Chanakyapuri, New Delhi. The office space displays elegance and sophistication in the form of refined luxury.
The office space follows a formal design and is divided into the following areas – entrance lobby, waiting area, Madam President's Cabin, Staff Area and conference room.
The design is more modest and muted than the late colonial style of the 1800s. The plank top table in the president's cabin along with the wing back chair topped with loose upholstered cushions is quintessential to the colonial interiors.
The design is accentuated by the use of earthy tones, subtle blues and cool whites and in-laid brass panelling. Wallpaper in the ceiling raises the uber-luxe quotient.
Fine walnut panelling with iron brass fixtures sit beautifully in on the walls of the conference room. The 15' long conference table is a reinterpretation of the post federal interiors with a combination of dark walnut finish and inset lacquered glass.
Inspired from the Georgian style, the overall look is dark, heavy and symmetrical, but with straighter, more upright lines.
The decoratives have been refurbished and reused to reassure the creativity, excellence and respect for craft of the local traditional artisans.
The atmosphere overall is relaxed yet charming. The Office at Santushti Shopping Complex – 'The early 1920's exuberance with a touch of modern day interiors presented Brickwood419 Style'