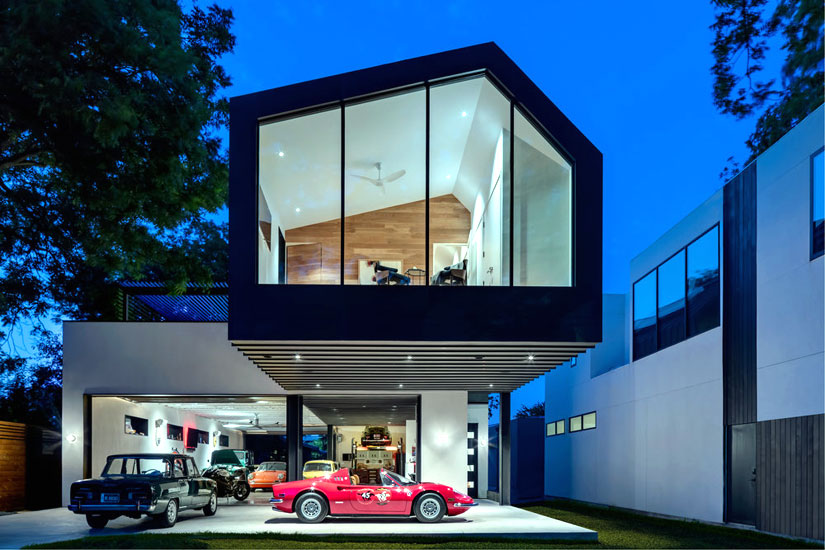 Project Name: Auto Haus
Location: Austin, TX
Architect: Matt Fajkus Architecture, LLC
Project Manager: David Birt
General Contractor: Risinger & Co.
First Floor Walls: Bautex Systems
Structural Engineer: ARCH Consulting Engineers
AV: Smarter Homes
Staging & Styling: Nitsche Events
Phase: Completion 2017
Photography:
Charles Davis Smith
Perfecto Creative
Casey Woods
MF Architecture
The Opportunity
The architect and builder of Auto Haus utilized the Bautex Wall System to help meet a broad set of owner requirements for their hybrid residence and collector's garage.
Architect Matt Fajkus and builder Matt Risinger collaborated on Auto Haus to create a unique living space and garage for a car collector moving to Austin. In designing this new home, the 15-car garage was a key element of the overall design. The design team created a unique hybrid structure that seamlessly and efficiently integrates the residence and garage spaces.
Key Design Features
There were a number of important requirements for this project. First and foremost was the need for a high level of security. The walls also needed a high fire rating to protect the structure and adjoining residence from internal fires that could be caused by the cars themselves.
In order to protect the valuable cars from the aging effects of the Texas climate, the space had to be conditioned and the walls had to meet latest code requirements for continuous insulation and be energy efficient.
As the cars are washed on a regular basis the walls also need to be able to withstand being sprayed with water on a regular basis. They wanted a wall that was totally impervious to moisture damage from interior to exterior.
Another important element when protecting cars is the ability to control the humidity as well as the temperature in the space. If it's too dry, it can prematurely age many of the expensive parts of the cars. If it is to damp, too much humidity can also damage the cars.
Conclusion
In order to meet all these important requirements, the architect and the builder decided to use the innovative Bautex Wall System. The Bautex Wall System met all of the owner's' needs for security, safety, moisture resistance, ability to control the temperature and humidity and energy efficiency – all in one integrated wall assembly. Because it is a composite system, Bautex Block also saved on construction time and simplified the overall design and construction of the building.
For more information on this project, please visit: http://www.bautexsystems.com/projects-overview/auto-haus or contact Matt Lee, bautexsystems@gmail.com