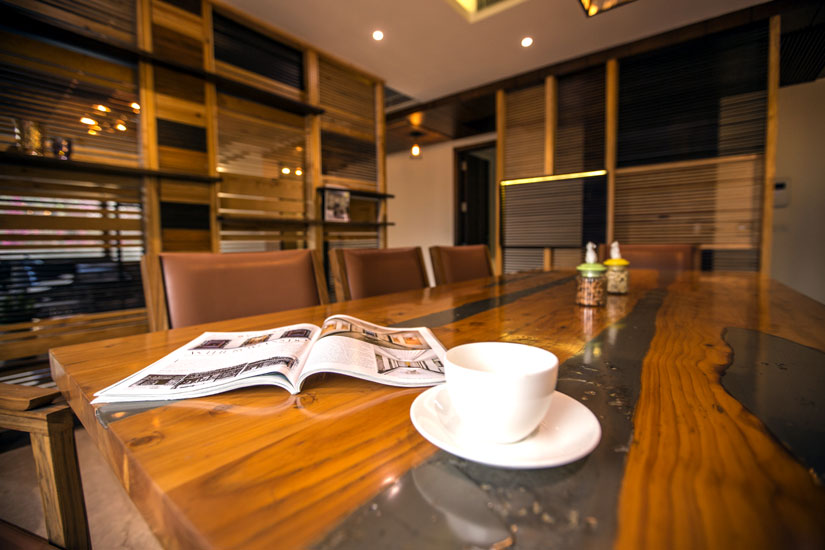 Architectural Group: flyYingseeds Studios
Design Team: Abhinav Chaudhary
Project Location: New Friend's Colony ,New Delhi
Client: Mr. Sahil Khanna 
Consultants: Interior Contractors 'Lines Pvt. ltd.'
Project Completion: 2015
Total Project Area: 2500 Sq.ft.
Built-Up Area: 2150 Sq.ft.
Project Type: Residential/Apartment Interior
Image Courtesy:  flyYingseeds studios
[dropcap style="flat"]T[/dropcap]he first glance of the site, a typical apartment flat with walled spaces to facilitate a family, confined within privacies of rooms. We determined to break that stereotype into a swanky bachelors studio, very minimal and rustic, yet chic and classy that also participates with the green beyond the exterior walls. We identified vision lines that navigates the eye through the defined spaces, connecting to the outside.
We started by shuffling a few spaces resulting in better circulation plan, altered to fit the users lifestyle and create personal, associative spaces. The whole idea revolved around giving an illusion of bigger spaces both physically and visually. With only private areas in confinement. The young client with single status being equally excited for any exploration gave us enough room for innovation while delivering a cost effective solution.
Our most conscious exercise was to introduce a unified layer of screening system in wood within the altered volumes. These had to be placed strategically such that it accentuates the openness of the stretched spaces, maintained transparency within the entire volume while defining activity areas. Everything emerges from within and bonded with one element.
The single unified element, wooden screens. That gives a very raw character to the entire project yet fitting in the contemporary lifestyle of the client. The lighting scheme was designed to add another layer that beams out through the perforated screens giving illusion of a much larger space. this screen contained diffused dual tone lighting to convey different moods, a warm and continuous character.
Personalized spaces were evolved by introducing rational elements  where the client could have his me time, like the outdoor deck area, reading space, breakfast corner, Digital gaming console etc.
We evolved how we redefined a space by using one real material element as our intrinsic palette, where it turns in to console, a centre table, buffet counter, bed headboard to achieve simple uncluttered spaces.
[author][author_image]http://www.howarchitectworks.com/wp-content/uploads/2016/07/Abhinav-Chaudhary.jpg[/author_image] [author_info]
f

lyyingseeds
is an pragmatic initiative by free-spirit trained Architects and designers who are passionate about innovation in designing spaces, like to share photos captured to observe the unnoticed beauty in everyday life, makes music if weather instigates! we consistently try to connect to deeper values of people. We learn and share .[/author_info] [/author]