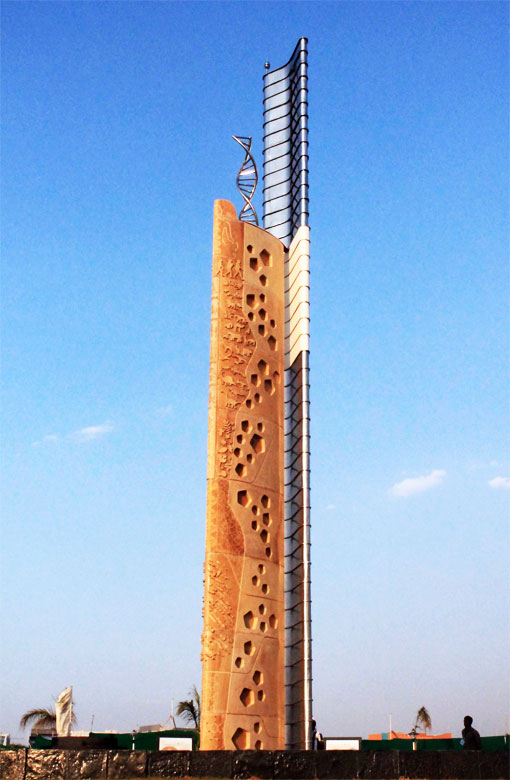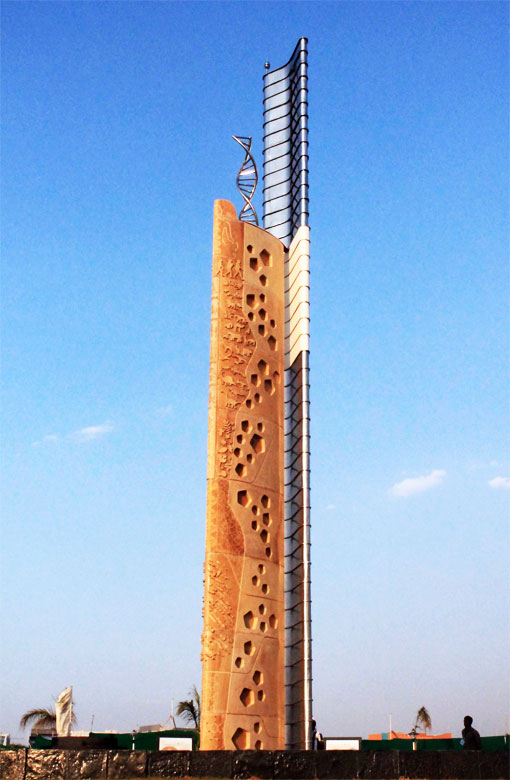 Project name: Bio Diversity Park Pylon
Architectural Group: Genesis Planners Limited
Architects/Designers: Genesis Planners Limited & Odyssey Stone & Architecture Design
Client Name: S & S Green Projects
Project Location: Bio-Diversity Park, Gachibowli – Mehdipatnam Road, Hyderabad
Project Year: 2012
Project Area (Total): 60702.8463 m² / 15 acres
Project Type: Monument

[dropcap]T[/dropcap]he majestic monument for the Bio-diversity park, built on the Gachibowli-Mehdipatnam Road, has become a landmark in Hyderabad as an artistic expression of the great mystery of life on earth and its creation. Architecturally, it depicts solid, liquid and gaseous forms.
Odyssey was invited to collaborate on this prestigious project by Genesis Planners Private Limited, the project's lead Architects  and a well-known Hyderabad based Architecture firm.
This mammoth undertaking required procuring, sawing, processing and polishing 165 tonnes of stone at our production facilities in Udaipur and NOIDA and shipping it for installation to Hyderabad.
DESIGN BRIEF
The monument includes a 32 feet high elliptical Bio-Diversity Pylon, depicting the evolution of species – starting from an atom, evolving to become molecules, proteins, various life forms and the intelligent human being.
The base of the Pylon is composed of concentric circles representing nature's five elements – Earth (Prithivi), Air (Vayu), Water (Jala), Fire (Agni) and Ether (Akasha).
RING OF AIR
It is the outer most part of ring with a diameter of 108 feet, represented by 12 trees. The number 12 has been arrived at by multiplying 4 (Cardinal Directions) and 3 types of (wind). There are 12 pedestals along the ring that represent 12 hours of the day. On the Stair skirting are engraved names of 193 countries on polished black granite.
RING OF EARTH
The park has an ambulatory path engraved with 191 classifications of the Tree of Life. The circumference of the path is 224 feet while its width is 6 feet and has been symbolically proportioned to human height. The pathway has a Black Granite surface in Antique finish with 2 mm deep engravings of names of all 191 species.
RING OF FIRE
The fire here is symbolized by Sun with radiating lines in the colors of fire, made up of Black Granite base and sun rays in Red Granite and Jaisalmer Yellow Stone.
MURAL WALL
A transition wall slopes down in between the Ring of Fire and the Ring of Water. This mural wall is divided into three zones depicting the three aspects of Bio-diversity, System (Prakruthi), Species (Prani) and Structure (Antarlaya). We installed 90 pieces of 30 mm thick Etah Gold Stone in taper. These pieces were shot blasted, hand polished and engraved with different finishes.
RING OF WATER
This is a water bowl signifying incubator of life with a floating map of the world without any political boundaries. Water jet technology was used to cut world map shape in 30 mm thick stone.
RING OF ETHER
The fifth element is represented by a fan like structure with empty space between the fins. This structure is made of two levels. The upper level is made of 17 pieces of engraved 30 mm thick Etah Gold Stone. While the base level is made of 25 chipped and stacked pieces of 30 mm Black Granite.
THE PYLON
This majestic 32 feet high elliptical structure depicts on itself the evolution of species from a single atom to the intelligent human life form. In the middle of the Pylon are depictions of DasaAvataras.
CNC milling was used to cut and curve 21 pieces of 250 mm thick Etah Gold Stone, each piece weighing approximately 1200 Kgs. The complete story of evolution of species was then engraved on these pieces.