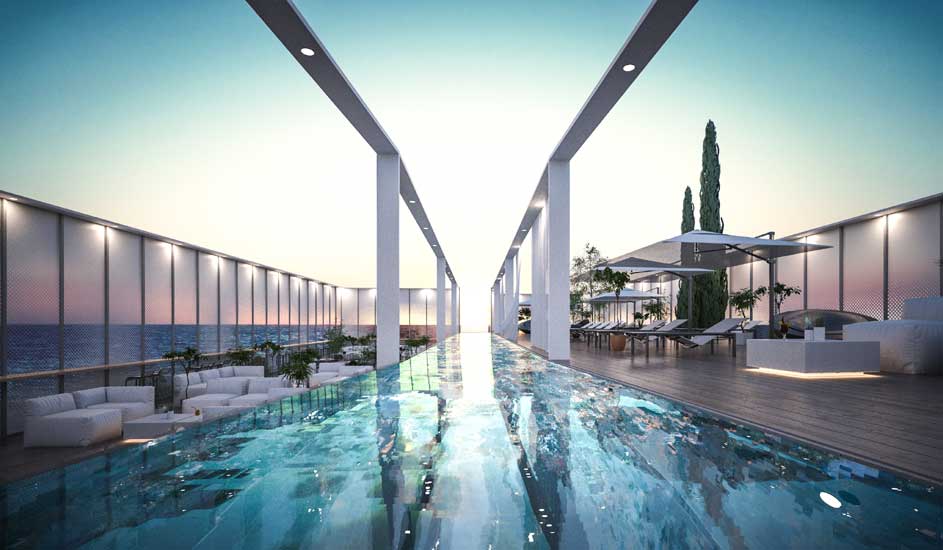 Project Name: BLUR, Beirut – Lebanon
Architectural Group: BAD. Built by Associative Data 
Project Location: Beirut – Lebanon
Project Type:  Mixed Use
Size 10,500 sqm
Year 2017
Image Courtesy: BAD. Built by Associative Data 
[youtube url="https://youtu.be/TIYnlgocbeI"]
BLUR is an upcoming 5-star boutique hotel located in one of the most prestigious neighborhoods of Beirut city, facing the Mediterranean Sea.
The driving forces behind the concept are the vistas and the strong relationship with the water. The façade treatment gives the impression of a wet feel to the building; a sort of Mirage or Blur.
This creates an outstanding presence to the simple and clean volumes. The separate volumes containing the rooms are joined by translucent surfaces formed by glass corridors and a glass pool at the rooftop allowing the light to gently wash the inner walls of the building.
The rooms are delicately treated by a monochromatic feel allowing the views to be celebrated by lighting and coloring the decoration. Three restaurants make the hotel a gastronomical address.
Two of them are located on the ground floor and one located at the rooftop where the sea and the sky meet in a misty and blurry environment.
[author] [author_image]http://www.howarchitectworks.com/wp-content/uploads/2017/08/BAD_Logo.jpg[/author_image] [author_info]
BAD. Built by Associative Data
is a young international design and architectural practice with several offices in Spain (Barcelona), Dublin (Ireland), Lebanon (Beirut) and China (Chengdu). Our expanding list of international clients feature ongoing projects located in the Middle East, Africa and Asia. BAD's international team of talented designers combine the expertise of working at critically acclaimed offices throughout the world with academic roles teaching at some of the most vanguard architectural schools. This dynamic creates an active and exciting environment for talented emerging architects.[/author_info] [/author]