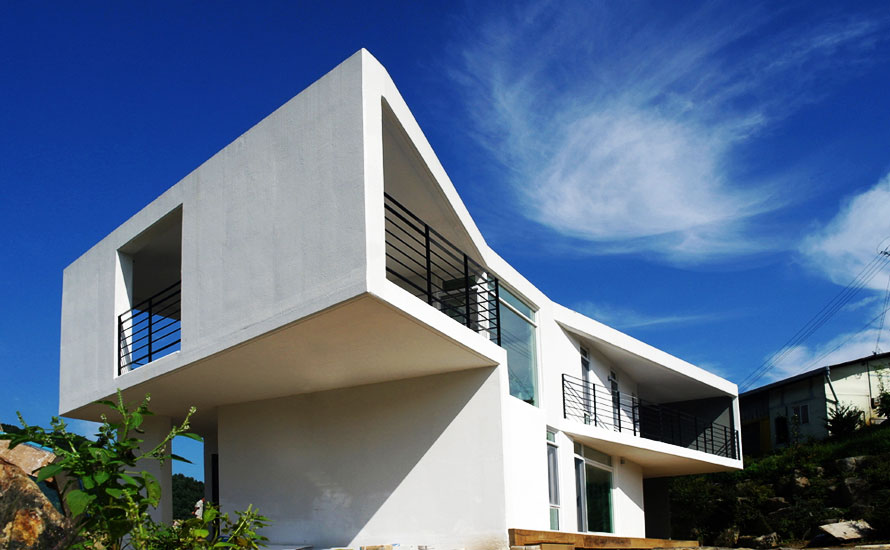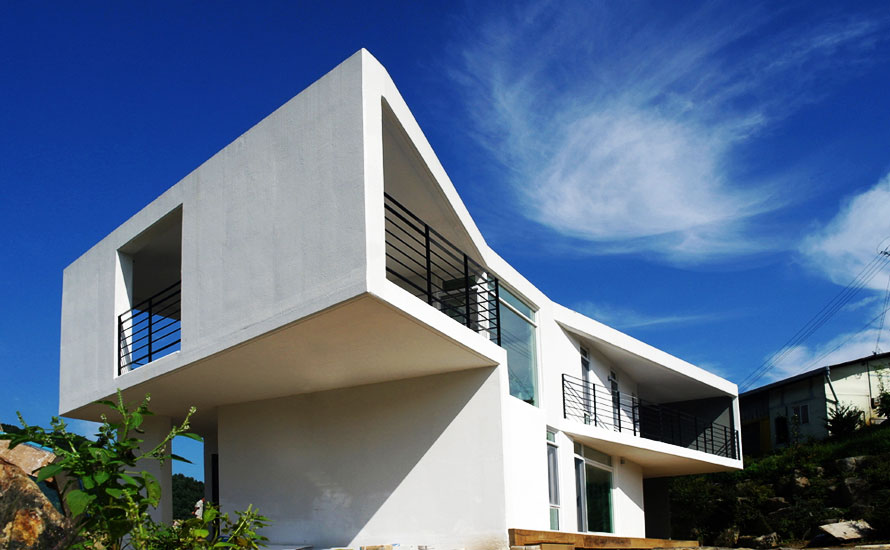 Architectural Group: Donner Sorcinelli Architecture
Architects/Designers: Luca Donner. Francesca Sorcinelli
Local Architect: Studio NakHyunJae, Nak-yong Choi, Seong Bong Yun
Works Manager: NR2, Jun-bo Sim
Construction Management: NR2, Sang-chun Lee
Client: Private
Project Location: Gapyeong, South Korea
Project Year: 2010
Project Area: 866 sq.m.
Built up Area: 217 sq.m.
Project Type: Residential
Image Courtesy/Copyright: Donner Sorcinelli Architecture
News Source: From the office of Donner Sorcinelli Architecture
[dropcap]T[/dropcap]he butterfly house is located near green hills, in the country of Gapyeong (50 km north east from Seoul), which cultural and environmental context has deeply influenced the concept of the building. A building is considered sustainable according to how well it integrates with the natural elements of the surrounding landscape and with the habits of its inhabitants.
This thought has been the springboard for designing a 'house system' in which the respect for local housing tradition (deeply linked to nature), affordability, the energy saving features of the building and the integration with the surrounding environment well blend together, following the principles of  feng shui.
The house is based on two units, one for a family, the other for grandparents, and his figure is defined by large panoramic terraces, shaped like the wings of a butterfly, open through the landscape.
Sustainability, affordability and the visual relation with the surrounding landscape are the main focuses of the project, developed through local cheap technological solutions, natural ventilation, high insulation and large windows and terraces shaped like the wings of a butterfly.
These elements characterize not only the articulated figure of the building, defining  masses, voids, translations and rotations, but also becoming passive systems able to optimize solar radiation and wind collectors able to catch summer breezes too. during winter, terraces work as barriers versus cold winds, protecting the house from  bad weather.
Building orientation follows climatic and functional reasons: optimization of natural ventilation and sunshine inside the apartments during the year.
This building has bagged several awards namely –
Highly Commended, "Cityscape Architecture Awards 2010" residential future category, Dubai (UAE)
Honorable Mention, "MA PRIZE 2011'', Atlanta (USA)
Shortlisted Nominee, "Cityscape Architecture Awards 2011" residential built category, Dubai (UAE)
Winner, "20+10+X world architecture Awards 2012", 10th cycle Paris (France)
Shortlisted, "PREMIO ARCHITETTURA CITTA' DI ODERZO", XIII edition, Italy