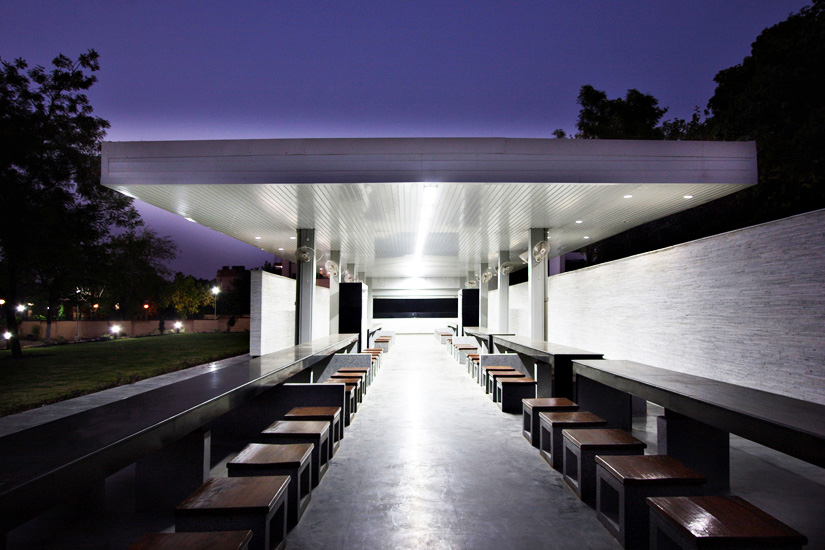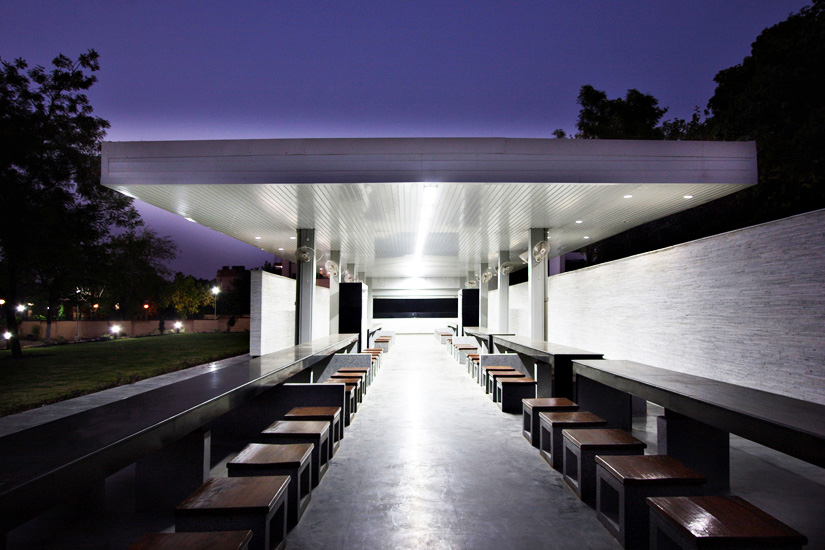 Architectural Group: Romi Khosla Design Studio
Chief Architects: Romi Khosla, Martand Khosla
Clients Name: Jamia Milia Islamia University, New Delhi
Design Team: Maulik Bansal, Praveen Rajputh
Project Location: Jamia Milia Islamia University, New Delhi, India
Project Year: 2007
Project Area: 890 sq. mt
Project Type: Institutional
Electrical Consultant: WBG Consulting Engineers
Structural Consultant: Chordia Techno Consultants
Plumbing Consultants: Kumar Endecon Pvt. Ltd.
Contractor: Zumair Khan, New Delhi
Image Copyright/Courtesy: Saurabh Pandey
News Source: From the office of RKDS
[dropcap]A[/dropcap] Cafeteria in a University Campus located near Auditorium, Cultural Center, Mass communication, was expected to become hub of all social activities of the Campus.
Due to the extreme climatic conditions of New Delhi, where the summer sees temperatures of above 45 degrees centigrade, and the winters often see temperatures below 5 degree centigrade.
[quote style="1″]Most student canteens in India are not air-conditioned, and are often poorly ventilated, making them very hot and oppressive in the summer and very cold in the winters[/quote]
This canteen was proposed as a 'Semi open air Café'.   This allowed to have an ambient temperature for most of the year along with good ventilation, and a variety of degrees of shade from the climate.
The design is truly unique and contemporary and we feel, will herald a new age of Architecture for the University.
The building block has a kitchen block to the east, which is a fully enclosed space to cook and serve in.  As One walks along the length of the building westwards, initially the eating enclosure is defined by two walls and a roof, further still the sense of interior is defined by one wall and the roof, further still the space is articulated by only one wall, and yet further still, there is only the floor, and then that too stops continuing.
Throughout this changing sense of interior and exterior, the eating surface and the seating surfaces continue, almost acting like stitches that tie this entire space together.
The idea was to try and blur the boundaries between inside and outside, where these undefined boundaries act as a negotiator between the user and the climate of Delhi.
This was the first steel building built at the university campus.
All the elements of the building are defined distinctly and independent from each other.  The walls don't touch the floor and the roof does not touch the walls.
FINISHES
Walls:
Kitchen: Marble Cladding over kitchen walls comes in handy for this kind of busiest place.
Eating Area: Waste off cuts of marble stacked on its side, elevated from the floor on a steel I – section
Floor: Kota stone is the hardest locally available stone. Its slabs have been used for flooring, skirting, dado, risers of steps etc. keeping in view the high expected usability of the building.
Roof: Coated galvanized iron sheets lay over steel framework
Ceiling: Perforated aluminum sheet has been used as a ceiling so as to reduce noise levels within the canteen. Lights have been concealed in this ceiling to achieve a clean soffit.
Furniture: Benches: Precast RCC, with Sheesham wood tops.
Tables: RCC with granite top.
Structure:
Kitchen: RCC and Brick
Eating Area: Steel