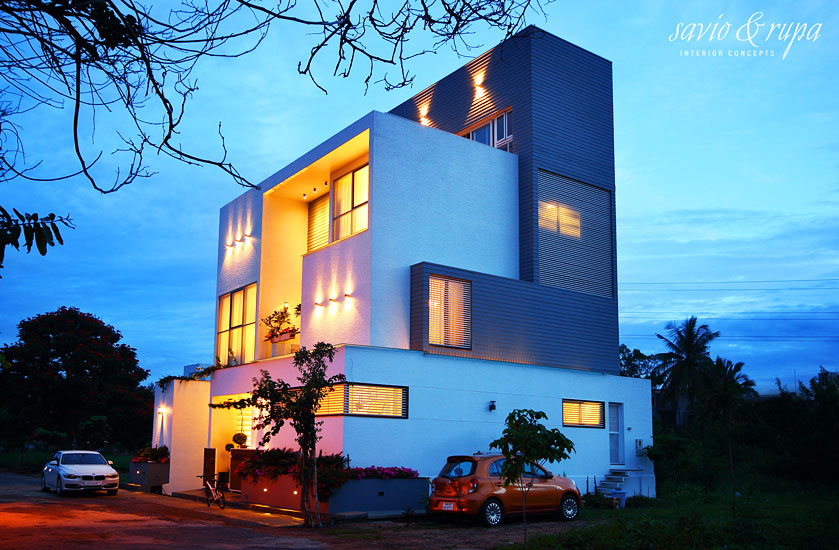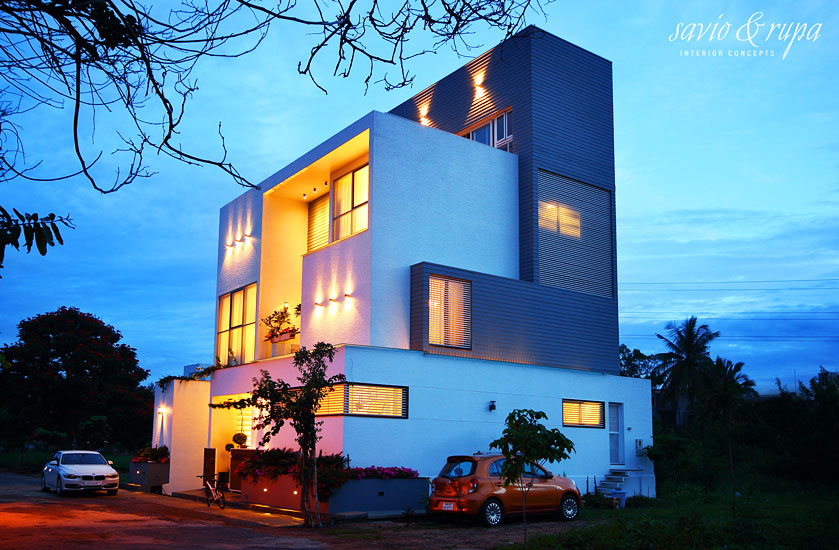 Architectural Group: Savio Michael & Rupa Savio
Architects/Designers Name: Savio Michael & Rupa Savio
Project Location: Bangalore, Karnataka – INDIA
Project Year (Completion): 2014
Built up Area: 5000 Sq.ft.
Project Type: Residential
Image Courtesy: Savio and Rupa Interior Concepts
[dropcap style="flat"]D[/dropcap]esigner's Den is a flagship project of Savio and Rupa Interior Concepts. They have followed Scandinavian Fusion theme for this villa located off Sarjapur Road, Bangalore.
The first thing to notice in this house designed by Savio and Rupa is the use of de facto ceiling that allows natural light to pour in. In fact their primary focus was to embrace the pleasant and moderate weather of Bangalore.
The Alfresco Dining, Bedroom Spa with Skylight, Balcony Garden, etc. enhance the indoor outdoor experience and add charm to the Den.
The second is the all-white backdrop typical of Scandinavian homes. Slowly, the artistically placed colours and patterns begin to pop, elements of fusion that surprise and delight.
The living room is a good mix of stone and wood with oval sofas, coffee table and circular chandeliers breaking the monotony of straight lines.
The alfresco dining area, which is an extension of the open kitchen cum dining area, makes optimal use of garden space, bringing in the outdoors.
Even the staircase becomes a part of their artistic interpretation with floating steps and two sky bridges connecting two different parts of the house.
The family living space and bedroom have hints of Scandinavian style furniture, warm wooden accents and indoor plants, to complete a tastefully designed interior.
Rupa Savio has tastefully designed a new age floating kitchen that is worth mentioning. The kitchen has been intentionally set against the raw texture of natural stone wall to create a dramatic juxtaposition, adding to the grotto effect and uplifting the immaculate black and white glossy kitchen. The illusion of a floating counter comes from transparent T-shaped structural glass panel that it stands on.
The kitchen is streamlined with cutting-edge features like tandem boxes, a slick sink, a barbeque grill and a deep-fryer, all installed on the floating counter. Clean lines of hi-gloss shutters, and pullout pantry unit give it a futuristic look. Ample storage space to stash things and the kitchen counter extending into a small make-shift dining space ensures that the functionality of the kitchen doesn't get compromised for style. Ambient light plays a key role in highlighting the varied textures used in the kitchen. Cove lighting and shelf lights have been added to achieve this desired affect.
For more works, visit the website Savio & Rupa.