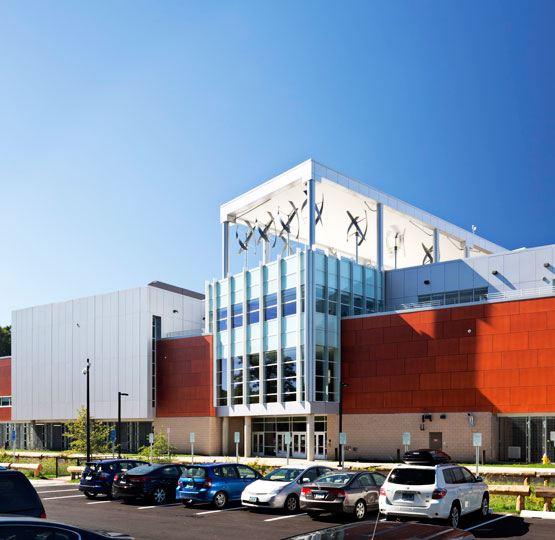 Project Name: Fairchild Wheeler Inter-district Magnet Campus, Connecticut
Architectural Group: JCJ Architecture, Connecticut
Architects/Designers: James E. LaPosta, Jr.
Client: City of Bridgeport Public Schools
Project Location: Bridgeport, Connecticut, United States
Project Area: 250,000 sq.ft
Project Type: K-12 Education, Institutional
Project Year (Completion): 2013
Image Courtesy/Photo By: Robert Benson Photography
Text: Office of JCJ Architecture
[dropcap]T[/dropcap]he $87 million Fairchild Wheeler Inter-district Magnet Campus has been hailed by media as the
"Greenest School in Connecticut."
The Campus is sited on an abandoned park and is registered and on track to achieve LEED Gold certification from the USGBC.
[quote]A signature green element of the school is its "wind porch," a series of wind turbines located above the student entry and designed to take advantage of the prevailing coastal winds.[/quote]
The Campus was also "designed around" the park; as little of the existing landscape was disturbed as possible.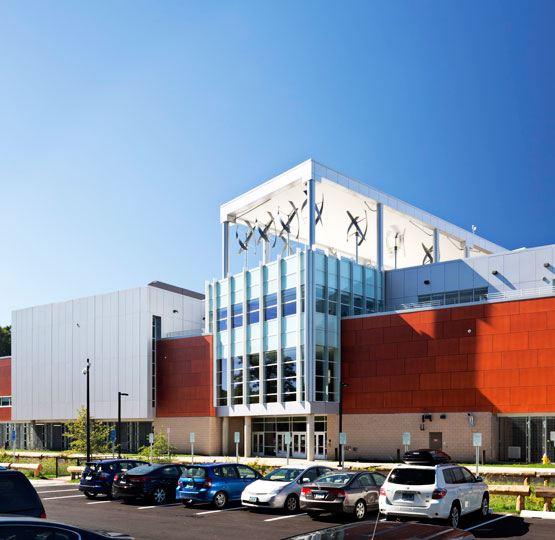 Comprised of three distinct learning communities, Fairchild Wheeler focuses on the themed disciplines of Physical Science, Math and Aerospace; Zoological Studies and Applied Biology; and Information Technologies.
While the overall facility will house approximately 1,500 students, each of the learning communities will accommodate 500 students arranged in small advisory groups. Designed in partnership with the business and higher education community, each discipline has industry partners that are provided laboratory space within the school where students can engage in real-world activities.
[author] [author_image]http://www.howarchitectworks.com/wp-content/uploads/2013/11/Peter-N.-Stevens.png[/author_image] [author_info]
JCJ Architecture
 is a planning, architecture and interior design firm that offers comprehensive services to clients and communities in a range of markets and regions.[/author_info] [/author]