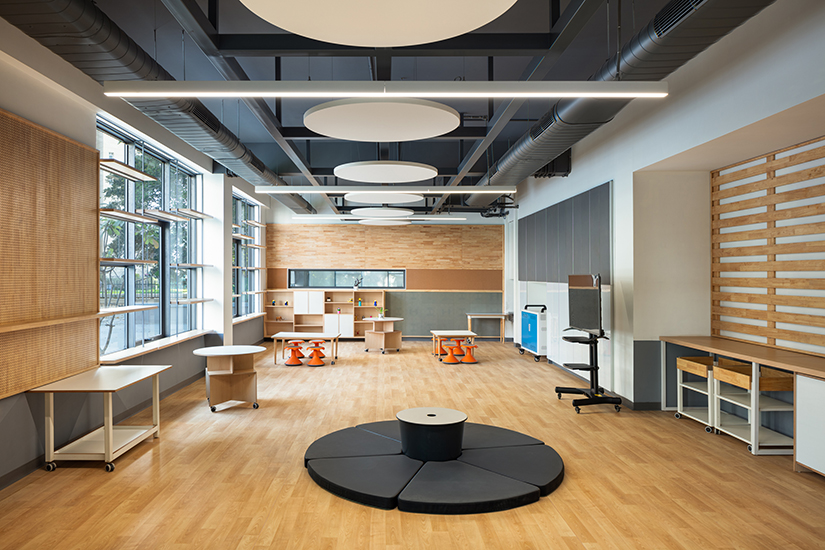 Project Name: Heritage International School
Project Location: DLF Phase 5, Gurugram
Architectural Group: Studio IAAD
Principal Architect/Designer: Rachna Agarwal
Client: Heritage School
Project Completion Year: 2021
Built-Up Area: 61,718 sq ft.
Project Type: Institutional
Image Courtesy/Copyright: Anjdre J. Fanthome | Studio Noughts and Crosses LLP

The Heritage School, Gurugram
Transcending barriers in education
Located in the high-end development of DLF Phase 5 in the suburb of Gurugram, the Heritage School exemplifies new-age school design that fosters harmony with nature and cultivates a sense of well-being and safety. Breaking conventional ground with its contemporary design, the design adopts a forward-thinking approach towards the physicality of spaces and their role in imparting education.
With an International Board (IB) curriculum at its core, the school has been set up as a day boarding facility for children attending nursery to the third grade.
As a manifestation of the core values and ideologies that the Heritage Trust represents, the school design reinterprets traditional education with a holistic approach and encourages a free-learning environment, transcending current context.
The school weaves itself onto the existing building fabric of three adjacent plots, wherein the existing facades have been stripped, and the interiors are transformed to redefine their language and utility, in line with the school's brand vision.
To create an indoor-outdoor synergy, a huge part of the overall exercise was to unify the structures into a single ensemble and revamp them to form a unified whole of interconnected building blocks with varied functions: the library, canteen, pre-primary and the primary school blocks. The open football field takes centre stage in the heart of the campus, which plays host to the after-school activities that are dedicated to sports.
Designed for young learners between the ages of 4 to 7, the clients envisaged the school as a second home for the kids, where traditionally enclosed classrooms are replaced with flexible and experiential learning spaces that help them push their envelope and explore the outdoors, kindling self-discovery.
A Nordic design style has been followed that uses a harmonious blend of textures and soft hues to induce warmth and snugness in the classrooms. It focuses on optimisation of the volumes through minimalism, clean lines and clutter-free spaces, stretching its domain to an accessible, barrier-free environment that enables safety and security for specially-abled individuals. Sliding glass doors are introduced in place of wall partitions, enabling a continuous change in the size of the enclosure and catalysing connections between different age groups. All rooms are bathed in ample daylight, retaining a sense of familiarity with the outer world, while creating a healthy and positive learning environment.
A full wall in each classroom has been dedicated to all the requirements including storage, blackboards, sink, etc., to create safe and frisky open spaces devoid of hard surfaces or edges. This results in the creation of tailor-made spaces that include soft furniture to maximise comfort, flexibility and safety, making learning a breeze.
The school emphasises learning through activity, and has multiple interactive spaces designed to engage children with stimulating tasks. A signature element- the Maker's studio serves as a hands-on laboratory for children to experiment with, create and explore various shapes and objects through different apparatus, models and workshops.
It is overlooked through a window by the parent's cafe, a versatile area provided for parents to interact amongst themselves, work or spectate as their kids try their hands at innovation. A custom-made light studio or atelier is conceptualised and equipped with a pinhole camera window to understand light photography, a shadow puppetry projection to explore light and shadows, and LED light tables which are used to learn about the blending of primary and secondary colours.
The wet and messy zone is a tiled area equipped with sinks that allows children to release their boundaries and mess around with water. To encourage exercise and physical activity, a playful space with a series of arches is created below the staircase, forming mini tunnels. In the client's vision, it is imperative to 'give children the spaces without defining how they should use them, since they always figure out their ways.
The school moves away from the customary model of jarring colourful interiors and instead opts for a limited material palette with neutral tones providing an impartial backdrop that allows the integration of various elements in this design. A monolithic vinyl floor creates a sense of continuum throughout and the pinewood used in the fixed furniture ubiquitously blends with the monochromatic earthy hues of the floor, together forming a language that binds the spaces.
A solid, geometric wooden slatting defines the striated pattern in the ceiling, onto which the lighting system is integrated, ensuring well-lit spaces throughout. An elaborate lighting installation in the reception creates moments of visual interest and becomes the show stopper; with an intricately detailed cluster of small fixtures in various shapes and sizes that are suspended from a larger outer umbrella. Woven in wicker, the installation complements the Nordic design approach and simultaneously becomes a medium for children to learn about numbers and basic shapes.
A sensitive approach combined with careful ergonomics promotes transparency and breaks down barriers, enabling every space to be available for learning; whether it is the floor, the window ledge, a table or a chair, and allowing the restless minds to wander.
The design interventions in the Heritage school cultivate and prod curiosity, while augmenting educational experiences to stimulate and invigorate a child's journey throughout the early years, eventually creating a positive impact on holistic development.
About Studio IAAD
For us, It's All About Design !
Studio IAAD is an award-winning architectural and interior design firm founded by Rachna Agarwal, located in India's millennium city of Gurugram. Since 2007, we have created stunning spatial experiences across a vast variety of projects in the residential, professional, hospitality, retail, and education sectors.
Our award-winning designs have been honored by the prestigious Global Architecture and Design Awards and the Indian Institute of Interior Designers; and further received prominent coverage by outlets including Architectural Digest India, Elle Décor India, InDesign Australia and Singapore, Living etc, India Today Home, Times Property, Times of India, The Pioneer, Construction World, Zenger News and many more. The firm has been recognised for its unique, noteworthy projects by Global Architecture and Design Award, Delhi Architecture Festival, multiple IIID Awards, and Young'13 Designers etc. Rachna Agarwal was awarded the Realty+ Women Icon Awards 2021 for the category 'Women Achievers in Leading Flexispaces'
Recent Projects on HAW Magazine