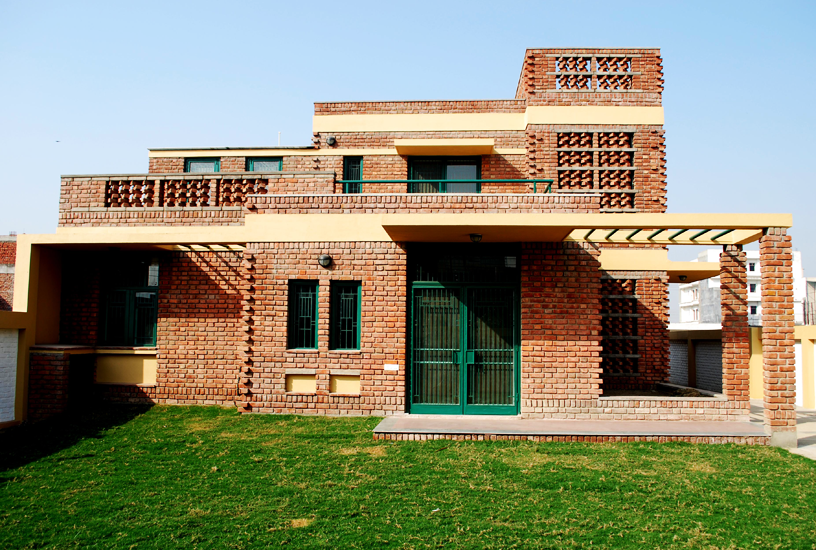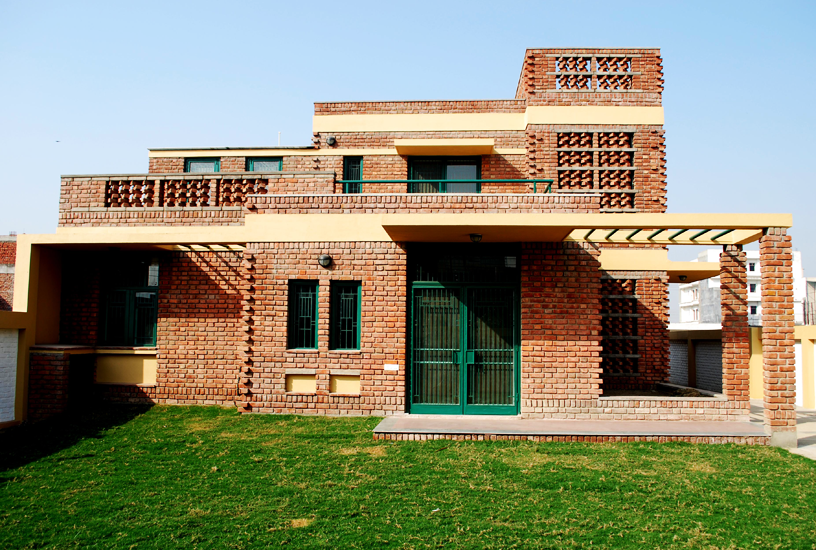 Architectural Group: Layers Studios for Design & Architecture
Client Name: Mr. Ranjan Kukreti
Principal Architects: Neha Bhardwaj, Gaurav Kapoor
Project Location: Noida, Uttar Pradesh-India
Project Year (Duration): 2011-2012
Project Area: 450 sq.mt.
Built up Area: 240 sq.mt.
Project Type: Residential
Photography: LSDA
Text: From the office of LSDA
[dropcap]A[/dropcap]s the owners presently stay in London, the brief was to build a house within optimum costs, that requires minimal maintenance but at the same time is aesthetically pleasing and in case they plan to come back, can be occupied immediately.
Within the constraints, the idea was to design a house staying true to the materials used in its construction and use alternative & cost-effective options rather than using cheap imitations of expensive materials which have flooded the market recently.
Based on the concept of using materials that age well, the house was planned as an exposed brick work house accentuated with concrete bands, metal pergolas & mild steel window frames and shutters that were painted in dark green on the outside and fresh pastel green inside.
[quote style="1″]A modern interpretation of the traditional brick 'jaali' was incorporated in the design as an enclosure to the otherwise external staircase[/quote]
The exposed materials lend beautiful textures and patterns to the house, at the same time, saving costs which would have to be incurred on plastering and painting these surfaces. The corner detail of the walls was inspired by an old brick school building in Delhi. By not following the conventional system of a quoin closure, we were able to achieve the unique corners for the walls.
The flooring was designed as a built-in carpet. The beautiful patterns of the terrazzo tiles were interspersed with Indian marbles in various colours such as yellow, green and chocolate. The flooring was designed to create individual areas within an open plan house and also in marking passages and circulation spaces.
The house uses mild steel for its windows and doors. This age old material has become our material of choice for doors and windows. Many people wonder about the material for these doors and they are surprised when we tell them that is Mild Steel. In Delhi, mild Steel has become the poor man's material who cannot afford the luxuries of the "upmarket Teak Wood". But now, after looking at these doors, people appreciate the use of mild steel. Good design can really change the perception of a material. Also, after working for these few years, we feel that Teak should really not be wasted on making  "chaukhats & palles". Its beautiful grains deserve so much more.
[author] [author_image]http://www.howarchitectworks.com/wp-content/uploads/2013/04/Gaurav_Kapoor.png[/author_image] [author_info]
Layers Studios for Design & Architecture
is working in the fields of Architecture, Landscape Design and Interior design, the aim of the practice has been to incorporate local traditions, international ideas, respect for the environment and cutting edge technology in its design sensibilities. Currently, the studio is based in Delhi and is headed by Neha Bhardwaj and Gaurav Kapoor, architecture graduates from School of Planning and Architecture, New Delhi.[/author_info] [/author]