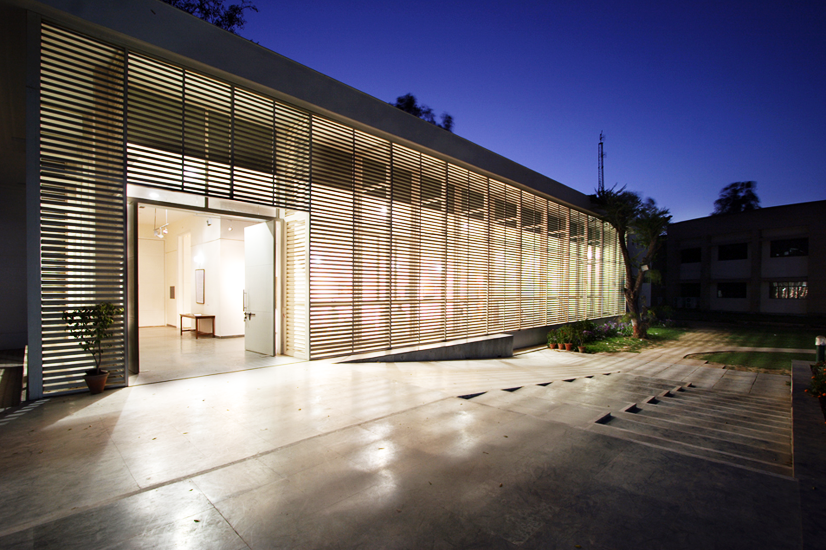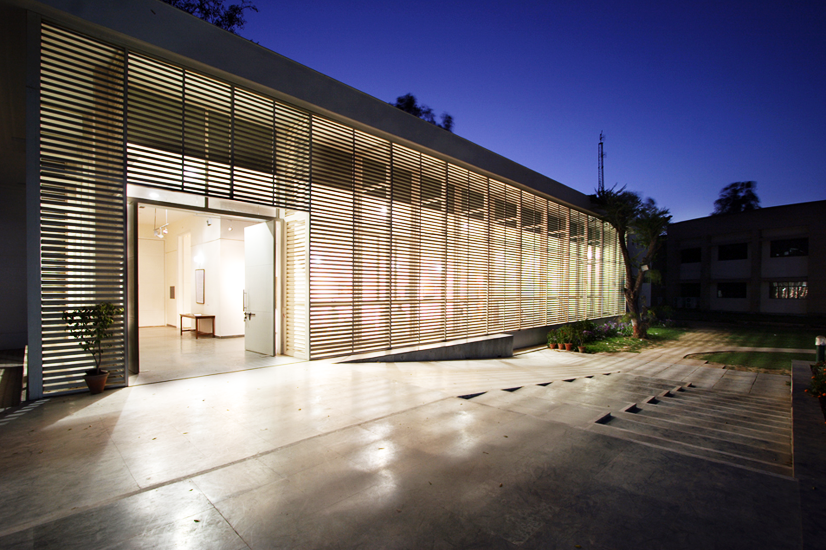 Architectural Group: Romi Khosla Design Studio
Chief Architects: Romi Khosla, Martand Khosla
Clients Name: Jamia Milia Islamia University, New Delhi
Design Team: Rajnish Pant
Project Location: Jamia Milia Islamia University, New Delhi, India
Project Year: 2007-08
Project Area: 810 sq. mt
Project Type: Institutional
Contractor: Zumair Khan, New Delhi
Image Copyright/Courtesy: Saurabh Pandey
News Source: From the office of RKDS
[dropcap]T[/dropcap]he University of Jamia was established in the 1930's. As the university evolved, it introduced a wide range of contemporary academic disciplines such as media studies and central Asian studies.  Jamia University is popularly regarded as a progressive avant garde campus.  In 2008, the vice chancellor proposed a new cultural hub for the university that would have as its core a contemporary students' canteen, a unique art gallery and landscaped lawns.
The architects chose white marble in the canteen and white metal louvers in the art gallery to express this contemporary identity.  The art gallery has become a community space for gathering alternative expressions of culture and identity.  This role signaled the canteen and the art gallery as iconic models of architectural expression in contemporary Indian academic institutions.
The art gallery has three main parts to it. The front gallery that is naturally lit is primarily designed for the display of popular art and student exhibitions.  The second space is the main internal gallery which is lit by controlled light and can be divided into 2 smaller galleries with the help of the central pivoting wall.  This gallery is designed for the great university art collection, as well as for external artists who want to exhibit their work here. The third exhibition space is the open air sculpture court at the rear of the building.
Other than this, the art gallery also has two artist studios adjacent to the sculpture court which are designed for short term stay of visiting artists.
The design has won WA Awards – Fourth Cycle June 2009 by World Architecture Community.