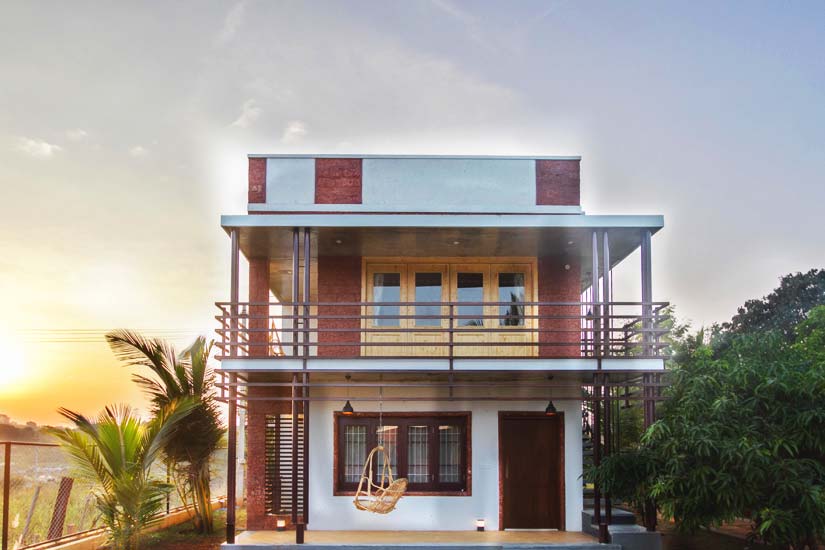 Project Name: Navya's – Retreat @ Hampi
Location: Hospet, Karnataka – India
Typology: Hospitality/Home Stay
Architectural Firm: Int-Hab – Architecture + Design Studio
Architects/Designers Name: Ar. Sachin Shetty
Client: Mr. Venkat Ramana
Project Completion: 2017
Total Area: 30000 Sq.ft.
Built-Up Area: 10000 sq.ft.
Image Courtesy: Mr Vishal Jayshankar
Built on a site based in the hot and humid region of Hospet a town next to Hampi, Karnataka, this retreat is a harmonious blend of vernacular architecture and natural finishes, amidst the existing lush vegetation, breathtaking and picturesque views.
The modest interiors are emphatically quite to echo the minimal form of the architecture. The design ideology is inspired by the rich cultural heritage of Hampi.
Each of the cottages is designed to encapsulate the feeling of home away from home to the visiting tourists. The flora and fauna was largely retained to acknowledge and celebrate the existing landscape consisting of lush green Mango and Chikoo trees.
Locally available materials and finishes were incorporated, thereby lending cost effectiveness to the project.
The master plan primarily consists of 3 typologies of cottages along with a swimming pool and a restaurant.
Type-1
Coracle – also known as "Theppa" is a locally available small rounded lightweight boat, this has been used as an element in the roofing for this typology of cottage.
Due to its properties such as buoyancy, cooling nature and waterproofing, it acts as a perfect cover for the cottage.
---
Type 2
The facade of this cottage is inspired from the smaller stone structures such as the ancient market complex found in Hampi.
Elements such as steel members have replaced the stone verticals which acts as a contemporary influence on the structure.
---
Type-3
This typology of cottage has influence of the traditional houses found in Northern Karnataka. The design includes several elements such as a veranda "Jagali" space and the sloping roof.
The roofing of the cottage is constructed using steel structure with puf sheet replacing the traditionally used pot tiles, that one can see across several of the local residences around Hampi.