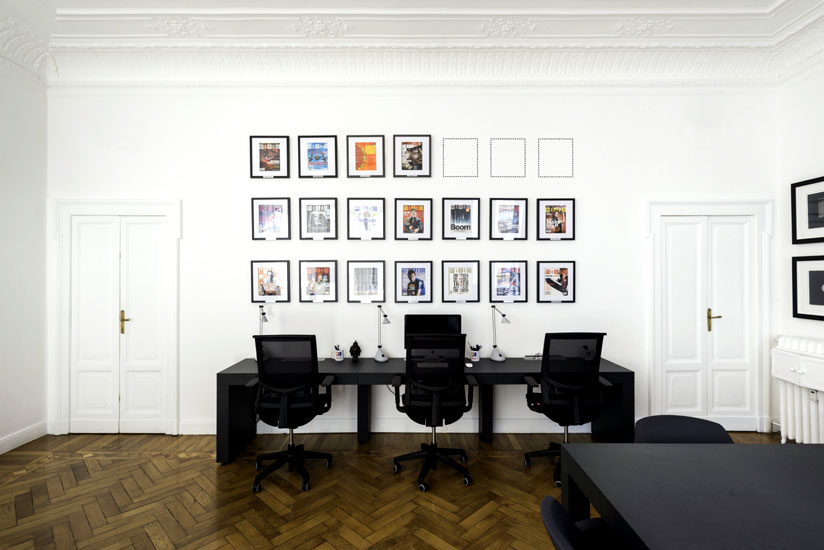 Project Name: Office Renovation_B!, Italy
Architectural Group: crisitiana vannini | arc
Client Name: Buongiorno spa
Principal Architect/Designer: Cristiana Vannini
Other Consultants: Alessandra Spaltini, Enrico Muccio
Project Location: Milan,Italy
Project Year (Duration): 2016
Project Type: Office Spaces/Interior Design
Image Courtesy: Saverio Lombardi Vallauri   / Luca Rotondo
cristianavannini  | arc designed  the new Buongiorno headquarter in Milan. Buongiorno spa is part of the Japanese group NTT DOCOMO, and a word class leader in m-commerce.
Located in the city Centre ( close to "Parco delle Basiliche"), the early 1900s historical building that host the company has been completely renovated to give a new contemporary and dynamic twist to the interiors, approaching and defining Buongiorno's corporate image.
The project includes common spaces and working areas.
At the ground floor comprises of the reception and multifunctional area.
At the entrance, a lounge area welcoming visitors to the reception desk. The cafeteria has the wheels fitted-out joinery and the hide-away kitchen, allowing different functions depending on the time. In the morning ,informal meetings and brainstorming can be hosted, while at lunch it becomes a cafeteria and a break out zone . Occasionally, the B! events are held.
The higher floors comprise of  big open spaces, meeting rooms and private offices alternated with common spaces like coffee-points and telephone booth areas.
Minimal color palette, distinguishing textures and wall lettering are the basics of these elegant and cozy offices.
CREDITS
TITLE: Office Renovation_B!
LOCATION: Milano
WHAT: Renovation e Interior Design
CLIENT: Buongiorno spa
Project leader: Cristiana Vannini
Project Team: Alessandra Spaltini, Enrico Muccio
Photographer: Saverio Lombardi Vallauri   / Luca Rotondo
http://www.lombardivallauri.it/
FURNITURE AND COMPLEMENTS:
Arper_seats
Ikea_ small accessories
Sphaus_ sofas, armchairs, coffee tables
Viganò office_ desks
Zero&T_ custom-made joinery
LIGHTING:
Flos
Foscarini
Louis Poulsen
Osram
Rossini
Targetti
FLOORS:
Liuni_pvc   (open space working area)
14OraItaliana_ gres porcelain (reception, cafeteria)
original wood flooring (corridors, private offices)
STUDIO:
cristianavannini | arc is a Milan based interior design practice founded and headed by the architect Cristiana Vannini and it is composed by a young and trendy team of interior designers.
cristianavannini | arc  is a responsive, client-focused firm that provides high quality architectural services in the interior, exhibit and retail design sector.
cristianavannini | arc assist its clients at every stage, from initial concept to completion.
For any further information www.cristianavannini.it