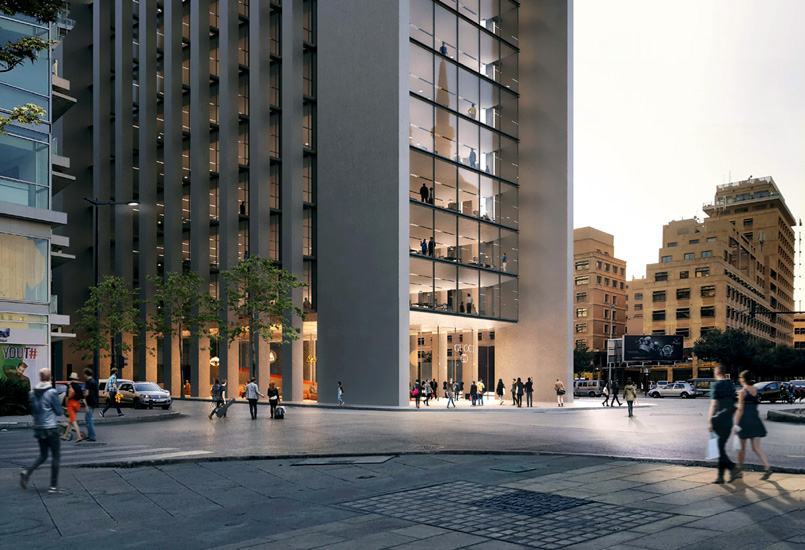 Project Name: One Independence Square, Beirut
Designed By: OAB – Office of Architecture in Barcelona & BAD. Built by Associative Data with the collaboration of Guallart Architects 
Project Location: Beirut – Lebanon
Project Year: 2017
Project Type: Office Spaces
Image Courtesy: BAD. Built by Associative Data
One Independence Square' is a project where elegance has recently found a new address. The project is designed by OAB, Carlos Ferrater, and Vicente Guallart in collaboration with BAD. Built by Associative Data as the local architect.
Located in the heart of Downtown Beirut, in front of Mohammad Al-Amin grand mosque, the building rises gracefully, housing premium retail and luxurious office spaces.
It offers a direct access from the Martyr's square, through a lax pedestrian ramp that gives onto a sky lobby.
Being on the upper floors, the offices revel in a 360 view of their surroundings, that of an ephemerality of no other. Hanging in a glass box, the slabs float in a vast free-span space.
Check out video on this project on Instagram: https://www.instagram.com/p/BW7O8hllqkn/?taken-by=builtbyassociativedata
Visit website: OAB – Office of Architecture in Barcelona & BAD. Built by Associative Data