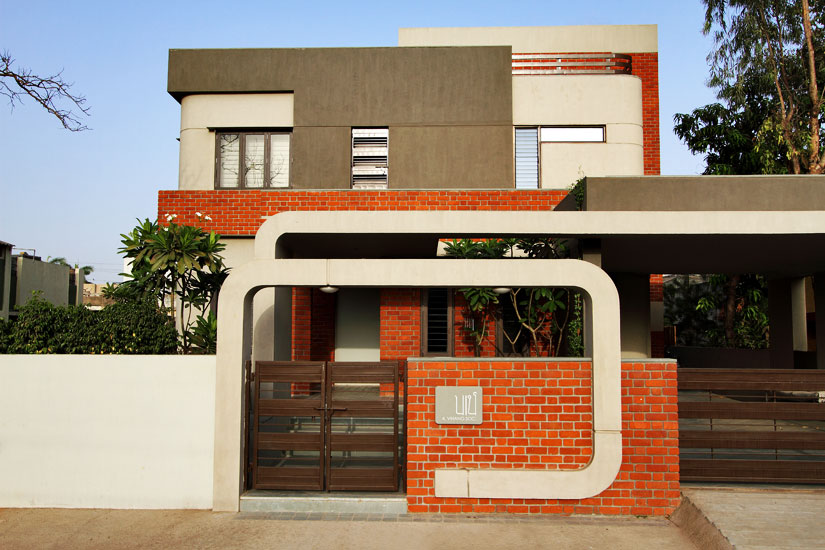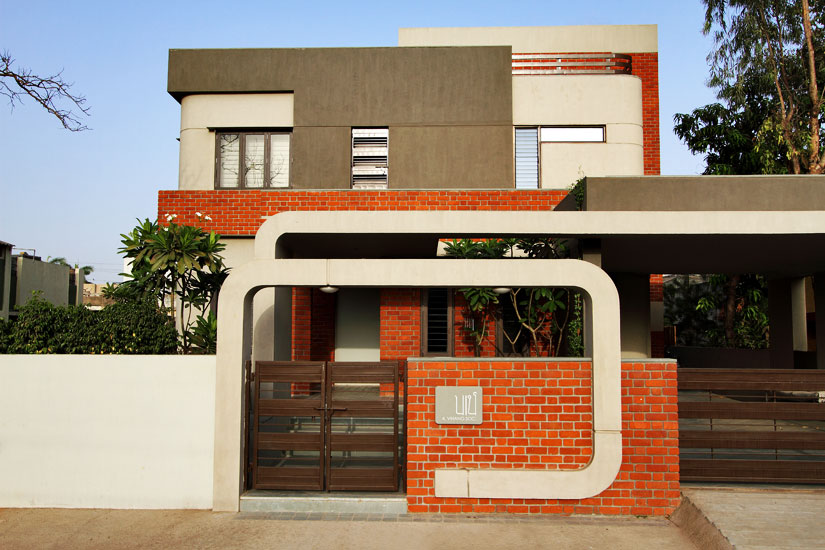 Architectural Group: UNEVEN
Client Name: Dr. Kalpesh Shah
Principal Architect/Designer: Dexter Fernandes & Shourya Patel
Project Location: Vadodara, Gujrat-India
Project Year (Duration): 2010
Built up Area: 5000 sq.ft.
Project Type: Residential
Photography: Tejas Shah
Text: From the office of UNEVEN
[dropcap]A[/dropcap]s individuals, the clients are very down to earth, simple & homely. They enjoy their family time and needed their home to be a blend of aesthetics and practicality. They are very Indian at heart & hold religion & culture close to their daily lives. They wanted a home that was elegant & traditional but yet contemporary in character.
The layout was very simple. The exterior was developed using a combination of fluid concrete members and exposed brick plates and frames. This combination of rustic materials brought about a tremendous homely feel.
The textures of the external faces play an equally important role in defining the ambiance of the space, and nothing could do more justice than the eternal exposed brick work. Complemented by the exposed RCC look the earthen red is brought out rather well. Even special care is taken to maintain this play of texture on the floors of the verandas and parking etc, the garden too, being considered an important element of the design. The garden is a very decided part of the color palette for the exteriors as well as the interiors.
The design challenge was to fit in the entire client's requirement, create a unique home as well as maintain the budget. The structure was very simple; the only challenge faced was in maintaining the curves of all the filleted members as they were casted on-site.
Rustic materials such as exposed brick, sandstone textures and river washed Kota Stone were combined together rather experimentally to bring alive this soothing, interactive home. Engravings of traditional motifs in Kota greeted the visitors at the entrance and the same patterns were duplicated in the form of a cutwork wood in the ceiling.
The living area on the ground floor seamlessly flows into the dining and the kitchen is adjoined. Since the living room opens out to a garden, the color palette has been kept to be earthy, accentuated by traditional jute furniture.
The family area and master bedroom on the first floor was designed to retain the feeling of spaciousness and has a terrace attached. A lot of natural material has been put to use as a traditional touch was needed to blend the basic nature of the residence with modern living.
Awards/Recognition:
Published in 50 Beautiful houses (VOL- 2), White flag Publications.
Published in HOME TRENDS – Vol. 2. No6.
[author] [author_image]http://www.howarchitectworks.com/wp-content/uploads/2013/04/dexter_fernandes.jpg[/author_image] [author_info]
Uneven
is an architectural design firm with a multi-disciplinary approach based out of Vadodara, Gujarat. Founded by two passionate and young architects, Dexter and Shourya who complement each other and are known for their minimalist and sober designs.[/author_info] [/author]