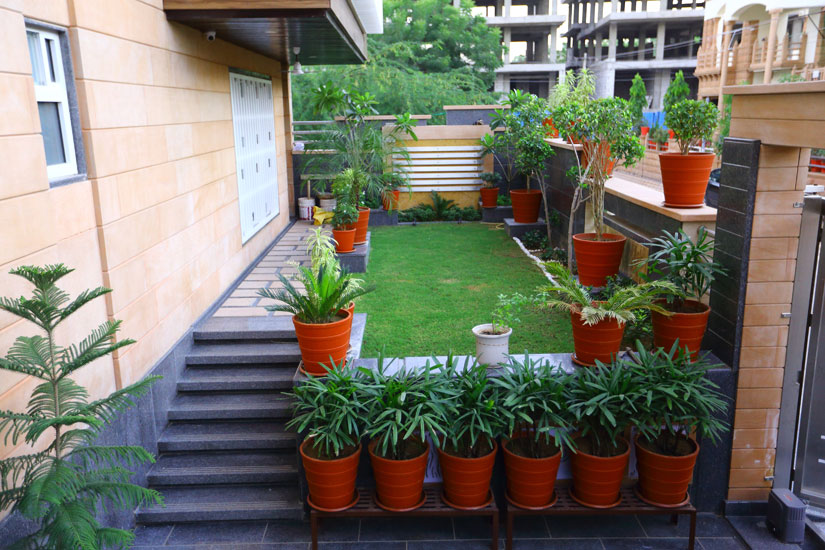 Project Name: Stone Residence, Jodhpur
Architectural Group: Ravi & Nupur Architects
Design Team: Ravi Jain, Nupur Jain 
Project Location: Jodhpur, Rajasthan, India
Client: Mr.N. Mandhana
Project Year: 2016 (Completion)
Project Area: 5672 Sqft
Built-Up Area: 7467 Sqft
Project Type: Residential
Image Courtesy: Ravi & Nupur Architects
[dropcap style="flat"]T[/dropcap]he twin residence of plot size 5762sqft, located in shantinath nagar was designed for two brothers with individually separate requirement for each. The west facing façade has two separate entrances with a grand patio & garden each. The family wanted a grand patio, 2 kitchens, 2 living, 2 dining, six bedrooms, and a home theatre and entertainment space on the terrace. Due to the restricted footprint, were forced to go vertically into a 2-floor structure.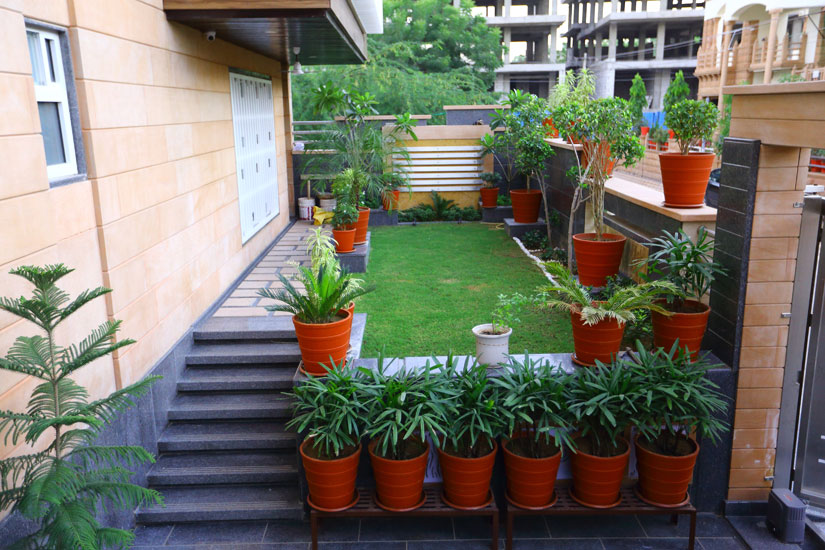 We intentionally thought of building an inward-looking house for twin brothers who wanted privacy from the street and views into their garden. The spatial flow takes into consideration the family's requirement of segregating public and private space.
The Block –A has drawing room on the ground floor, the first floor has living , dining, open kitchen, puja, 1 bedroom & terrace garden, the second floor has 2 bedrooms & a home theatre.
The Block B has living, drawing, dining, 1bedroom, puja & open kitchen on the ground floor & 2 bedrooms & a gaming room with garden view on the first floor. Both the blocks are connected internally via second floor common terrace making it a single entity on its own.
All the bedrooms are designed keeping in mind the color theme preferences. White is used as the base color for the overall interiors of the residence. The living space is a grand volume with area ranging between 498sqft-757sqft.
The parents' room & master bedroom in both the blocks were designed on the garden side. The living space is the pivot of the house, with all the spaces interacting with it. We were driven to create a contextually sensitive & modern design by maximizing the blend of local & modern materials & techniques.
The surfaces of the facade are a mix of Jodhpur stone & granite juxtaposed with fundermax. Flooring is large swathes of steel grey & chikoo pearl granite for the exteriors & makrana, Vietnam white marble & chikoo pearl granite for the interiors.
[author][author_image]http://www.howarchitectworks.com/wp-content/uploads/2016/12/rna_architects.png[/author_image] [author_info]
Ravi & Nupur Architects
is a design consultation firm, established in 2008, headed by Ar. Ravi & Nupur Jain with the aim of design of built environment that prioritizes the occupant's need & quality of life in coordination with social & natural environment.[/author_info] [/author]