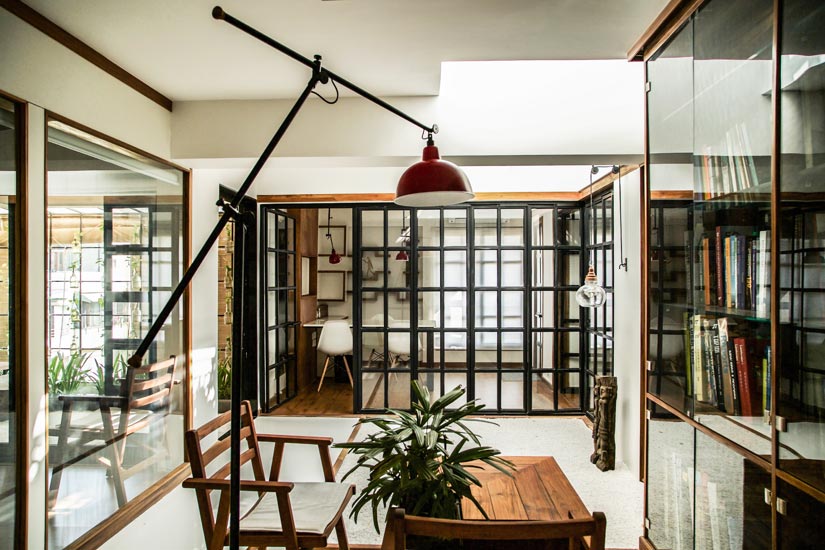 Project Name: Studio Saransh
Location: Ahmedabad, Gujarat – India
Typology: Office Space
Architectural Firm: Saransh
Architects/Designers Name: Malay Doshi
Client: Saransh
Project Completion: 2015
Builtup Area: 1750 Sq. ft.
Image Courtesy: Malay Doshi
Studio Saransh, located in Ahmedabad, is designed as a place of work for a design firm. Located on the fourth floor in a relatively old residential building, the two penthouses were used as an architectural office and a residence.
Due to multiple renovations over the years, the existing penthouses became a mess of jumbled walls, leading to poor ingress of natural light. The design intervention consequently undertaken consisted of the existing premises being stripped bare and rebuilt with minimal transparent partitions – this was a conscious decision to enable visual linkages throughout the space.
To accommodate the requirements of the growing firm, an uninterrupted space was created and split into zones for Thought and Production, separated by one for Discussion.
The space for thought has a more direct natural light source as it surrounds around a courtyard, while the space for production has an indirect source through north-facing skylights. A large terrace attached to each penthouse unit became the balcony abutting the conference room – a whimsical, contemplative zone.
The floor plan – and consequently, all interior spaces are oriented east, which ensures that the influx of direct light is restricted to early mornings, resulting in minimal direct daytime heat. The limited southern and western openings admit very little heat. The recessed balcony and green bottle wall helps reduce radiant heat gain.
Retrofitted with glass, skylights and courtyard, the duality of whites and wood and highlights of blacks and reds are the mainstays of the Studio. The spaces in the Saransh Studio are underpinned with abundant natural light and a sense of openness; to augment this sense of openness, a minimalistic material palette has been used. All the exterior and transit spaces predominantly use white, with wooden highlights; inside, most surfaces use wooden laminates, with white acting as the accent colour.