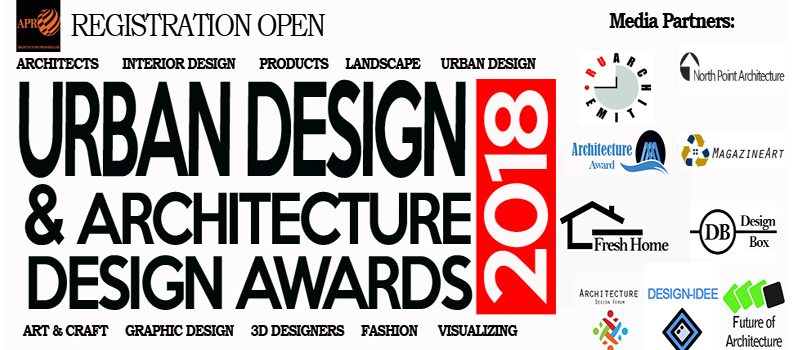 [dropcap style="flat"]A[/dropcap]rchitecture Press Release (APR) has announced 
Urban Design & Architecture Design Awards 2018
.
The awards are organized by APR- a leading body of architecture press in Global. We are also in partnership with ARCHITIME.RU, The Interior World, Architecture Design Forum, Design Box, Intech and more – a Global media brand that covers all aspects of the modern creative industries.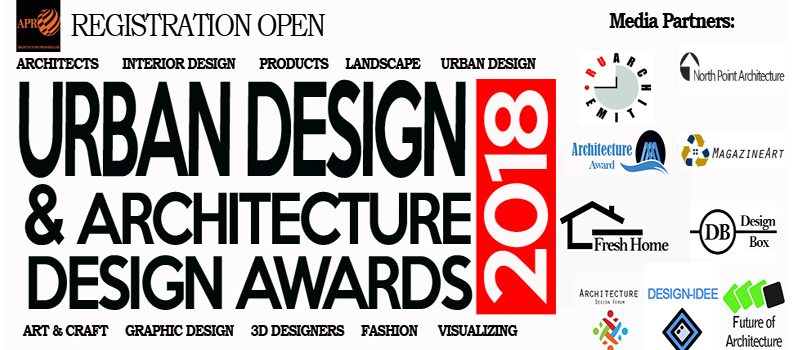 The Architecture press release has launched Urban Design & Architecture Design Awards 2018  (UDAD 2018) the largest awards program focused on promoting and celebrating the year's best architecture and products. Its mission is to nurture the appreciation of meaningful architecture in the world and champion its potential for a positive impact on everyday life. Imagine your best work in front of a global audience of 500+ million through social media.
The Architecture press release has launched Urban Design & Architecture Design Awards 2018. After successfully completing the IASA Awards for this year.
Previous Winners in the IASA Awards hosted by APR Professional Architects from the world as Smith-Miller + Hawkinson Architects, CUN Design, Maryann Thompson Architects, Crahay & Jamaigne, GRUPO ARKHOS, HADVD ARQUITECTOS, Fahed + Architects, Minarc, Sara Design Studio, DAVIDE FANCELLO ARCHITETTURA, Infrastructure Vision, HKA Associates, Architect-Manuj Agarwal, Gayathri and Namith Architects , Acanthus Architecture & Interior Consultants, Niki Pashaei Monfared, Prasanna Desai Architects, Wallmakers,Urbane – The Design Workshop Tala Shelbayh and many more.    
Categories:
Urban Design, Office Building, Pop-Ups & temporary,  Sports & Recreation,  Transportation, Landscape Design, Residential Interior,  Commercial Interior, Corporate Interior,  Households,  Fashion, Lifestyle and Accessories, Commercial, Cultural,  Hospitality,  Housing, Residence, Institutional Building, Mixed Use, Product Designs Elements, Art & Craft, Graphic Designer, 3D Design & more.
Registration Open 
Urban Design & Architecture Design Awards 2018 program:
Registration Begins – 25 August 2018
Registration Ends – 30 October 2018
Submission Deadline – 05 November 2018
Jury Voting – 6 to 15 November 2018
Winners Announced – 20 November 2018
Register here: http://architecturepressrelease.com/udad2018-registration-form/
Architecture Entries Registration: Register here.
Designs & 3D Designer, Art & Craft Entries Registration: Register here.
Lighting & Fashion, Products, Entries Registration: Register here.
Submission Fee:
Fees:
Early Bird Registrations – 25th August  to 30th September 2018- Fee: $20
Stranded Registration –1st October to 20th October 2018- Fee: $40
Late Registrations – 21st October to 30th October 2018- Fee: $50
Our Jury Panelist:
Per Fransson
Arkitektur Grundutbildning
Narein Perera
University of Moratuwa Katubedda
Sven Shockey
SmithGroupJJR
Michael Budig
Singapore University of Technology and Design
Rubén Alcolea
Cornell University United States
Katrin Lichtenstein
Dean's office study and Teaching / Study Coordinator
Katie Martin
Professor of Mackintosh School of architecture Glasgow School of art.
And More...
Why Enter?
Gain positive PR, Stand out from competitors, Make your brand | agency |practice famous, Personal and staff development, Be known as award-winning, Showcase your talents and skills to existing and potential clients, Reassure clients that they are associated with the best, Accentuate the importance of design and architecture in globally.
How will my entry be judged?
Urban Design & Architecture Design Awards will be judged by two stellar panels: one for design, the other for architecture. Each of the panels will be compiled of industry experts who will use their insight and experience to deliberate the results.
The DESIGN panel will be looking for: fresh thinking and originality, beautiful execution, great storytelling, work that pushes and progresses the client brief beyond expectations, work which emotionally connects with its people.
The ARCHITECTURE panel will be hoping to see: work that is programmatically, formally and spatially rich, the design that pushes boundaries, projects that address issues of sustainability a people focused, client-driven approach.
Submission Requirements:
You can send maximum 10 images of your project. Two A1 size sheets (594mm X 841mm). And your project ABOUT will be in WORD or PDF format in about 300 to 500 words. The submission which will be sent by you, have maximum 50Mb's in a zip file. And detailed us: architectureprmedia@gmail.com  in zip file. You can submit 10 projects in multiple categories and there is no restriction inbuilt, concept or projects making date. We'll send you different ID's for different projects.
Eligibility: 
Professional and Students are invited for 'APR International Award for Sustainable Architecture Award 2018.
Entries are invited from all the nations.
The projects submitted are considered by the author that submits the entry for the Award.
The works reached out of time will be excluded.
It is absolutely prohibited the participation to the awards of a Jury member, a relative or a person or body connected professionally to the jury.
Participation in the competition implies full acceptance of these rules.
To participate kindly visit: http://architecturepressrelease.com/udad-2018-brief/
Visit architecturepressrelease.com to learn more
Visit architecturepressrelease.blogspot.com to learn more.
Contact architectureprmedia@gmail.com with any question.