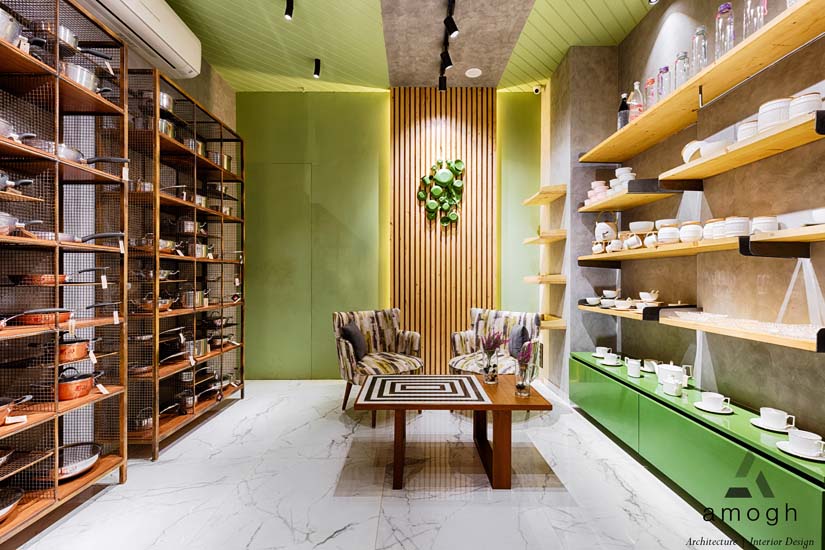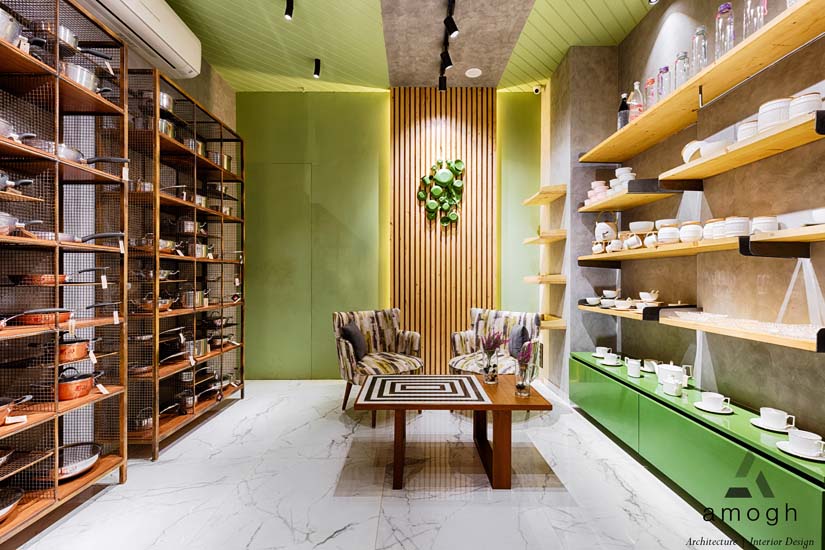 Project Name: Vaisselle Crockery Studio
Location: Ahmedabad, Gujarat – India
Typology:  Retail
Architectural Firm: Amogh
Architects/Designers Name: Pankti Shah
Client:  Pramesh Shah
Project Completion: 2018
Total Area: 850 Sq. ft.
Image Courtesy: Incline Studio
[dropcap style="flat"]V[/dropcap]aisselle is state of art retail store of fine tableware and porcelain crockery spread across 850 sq ft. Out of the ordinary, the client wanted to have a unique store where displayed products are merged to the space acting out whole as one. The ambience of space has been designed such that it complements the displayed products.
We at Amogh faced a unique challenge of designing a space in 6 weeks, which is quirky, eccentric and yet classy resonating to the luxe line of crockery sold. As soon as the door opens you are welcomed by the warm hues of grey with a throw of olive green which adds freshness to space. Interior is an eclectic mix of wood and metal. The timelessness of Moroccan ceiling adds the fourth dimension.
And the white marble flooring adds a sense of belonging to the displayed products. Track lights have been chosen wisely to electrify the space and focuses the products but yet maintains a subtle feel to it.




Artefacts, murals and planters are strictly made with products sold by the client. A very simple but eye-catching mural has been made of plates which have been painted to create a story. On the contrary wall -a mural made with the fusion of various old products sold is painted in a single green colour and arranged against the wooden batten counter striking its surroundings.
The chandelier made of white teacups arranged at various levels makes a divergence against the wall colours. Teapots and cups are used for indoor plantation which works as a smart display idea as well as shows the multi-utility of the product.
The DIY rustic wooden clock cannot be missed. A small marble infused coffee table has been placed at a corner paired with two plush and cushioned chairs for comfortable sitting over informal discussions and meetings. The stereotype display shelf of glass is nowhere to be seen and display boxes are the combination of metal mesh and wood. Open displays are woodwork with a mix of metal rods in fabrication. Every display shelf has been designed in such a way that they can easily be part of any indoor ambience.




A special high table has been made for the display of crystals and decanters which gives the feel of how the bar would like. As we move in the store, we can see different light fixtures and they change as the displayed range of product changes. It breaks the monotonous aura of the place.
The wall of steel frame at entrance acts as a transparent barrier accommodating the displayed products as well as the planters. This wall allows partial see-through in the store and creates a moment of curiosity to have a glance inside. Our designing approach to it was to break the stereotype image of the crockery store. And through all these small design decisions- as together we tried to make the store speak for itself.