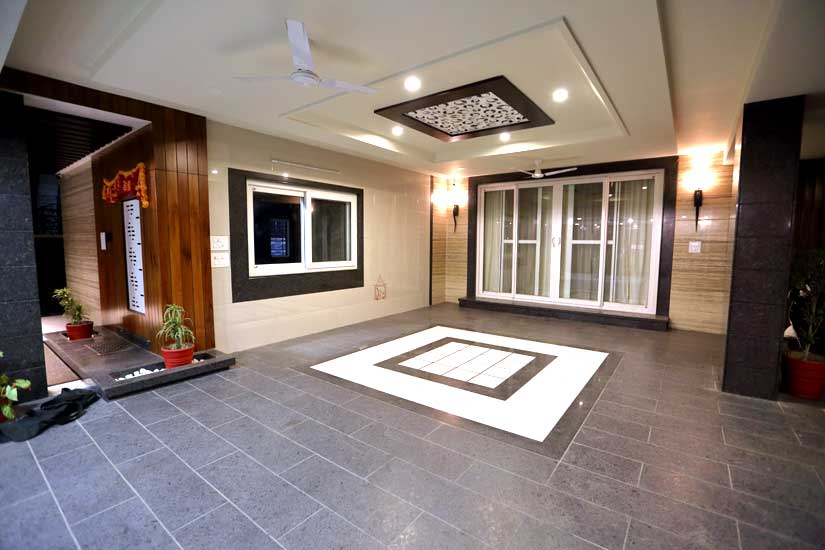 Architectural Group: Ravi & Nupur Architects
Design Team: Ravi Jain, Nupur Jain 
Project Location: Jodhpur, Rajasthan, India
Client: Mr.Ramesh Soni
Project Year: 2014(Completion)
Project Area: 5400sqft
Built-Up Area: 14000Sqft
Project Type: Residential
Image Courtesy: Ravi & Nupur Architects
[dropcap style="flat"]S[/dropcap]pread over a lavish area of 14,000 square feet, this three-storey residence is a gorgeous and beautifully planned affair. It is occupied by two brothers and their families, and designed in a way such that privacy and individual preferences are maintained.
The idea was to create a grand abode with simple, comfortable & sumptuous living.The challenge was to design 15500 sqft on an area of 5400 sqft, which leads to the initiation of verticality on a relatively low residential streetscape. Thus the verticality was artfully balanced by the use of Jodhpur stone and earthy tone materials on a contemporary façade.
The north facing residence was designed with a maximum opening on the front façade to allow ample light & ventilation throughout the structure.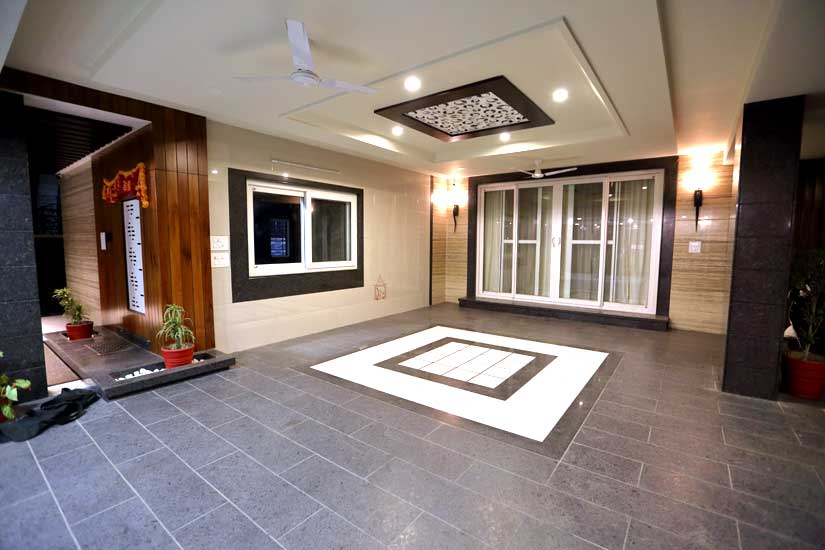 The Jodhpur stone and Silver travertine stone justifies the streetscape while exhibiting a great command of simplicity and verticality, the incorporation of contrasting tones of Granite, wood and designer tiles adds the contemporary drama while transitioning between outdoor and indoor spaces.
The Ground Floor mainly contains a large party hall equipped with Kitchen along with other utility Areas. While first & second floor feature three bedrooms units & the top floor is a complete recreational space with a library, gym, jacuzzi, home theater & gaming zones.
A common lift acts as the main transition space between all the floors.
The terrace above the porch is equipped with a Pocket garden that adds a little Green charm and quality lifestyle to an abode for a family that they would treasure even in holidays, making an impression of a lavish world on its own.
The residence is an inclusion of 30 different kinds of stones materials used in combination for cladding & flooring.
The residence is endowed with technologically advanced techniques like light & door automation, HVAC, solar water heaters, multiple flow showers etc. The house makes use of premium quality materials and creative lighting to make a style statement like none other. The interiors are elegant, sleekly designed and filled with sober hues.
[author][author_image]http://www.howarchitectworks.com/wp-content/uploads/2016/12/rna_architects.png[/author_image] [author_info]
Ravi & Nupur Architects
is a design consultation firm, established in 2008, headed by Ar. Ravi & Nupur Jain with the aim of design of built environment that prioritizes the occupant's need & quality of life in coordination with social & natural environment.[/author_info] [/author]