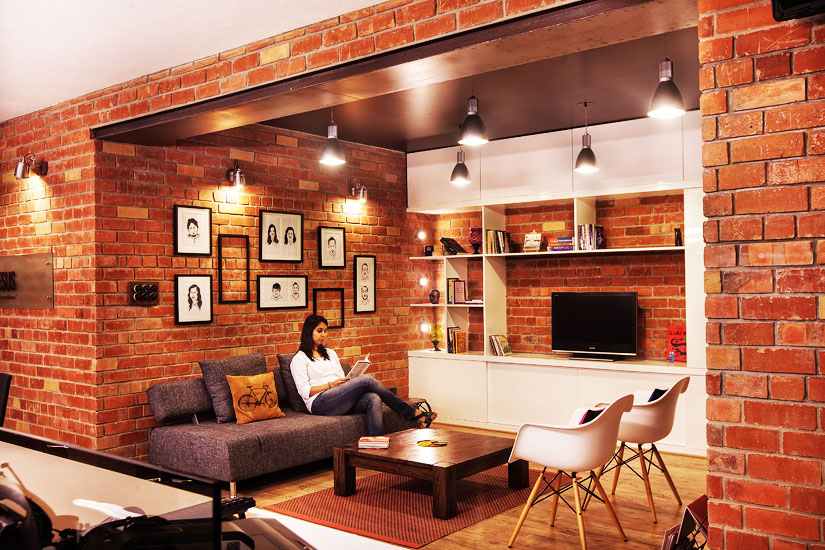 Project Name: CVC Network Headquarters, Bangalore
Architectural Group: 1LeapingFrog Studio, Bangalore
Principal Architect: Aatira L. Zacharias
Consultants: 7_inch interior contractors
Client: CVC NETWORK PVT.LTD
Project Location: Bangalore, Karnataka, India
Project Area: 3500 Sq. Ft
Built-Up Area: 3500 Sq. Ft
Project Type: OFFICE INTERIORS
Project Year (Completion): 2013
Image Courtesy/Copyright: Gareth Hoover Photography

[dropcap]T[/dropcap]he clients, an international media network, were looking to establish their headquarters in India that would address their creative and media requirements. We were presented with a complex brief that had both functional and open-ended requirements to house 20 employees involved in ideation and broadcasting. We re-interpreted this with the intention of creating an open work culture that enhanced creativity while responding to a highly technical environment which was to be future-proof.
The existing column-free space was visualised with a bold curve that became the backdrop and introduced a duality to the scheme. Visualised with honest materials and exposed services, the space is intended to create an atmospheric setting that would enhance the experience of those within it as well as their work.
The notion of the modern office has undergone tremendous change in recent times. Today offices are no longer the bleak, mundane spaces that large corporations have propagated in the past. Today's office is in a constant state of evolution. They adapt, they interface with the user and they even emote.
In principle we have brought this ethos into our design intentions for the new CVC office in Bangalore.
THE IDEA.
The primary idea has been a study of the formal and the informal.
THE ORTHOGONAL vs THE CURVE
ORDER vs THE FREE PLAN
TRANSPARENCY vs OPACITY
By juxtaposing each of these, we have attempted to capture something ethereal, in form, function and materiality. What results is a space that is transformative, flexible, cultured and sensitive. We believe, we have successfully interpreted CVC's youthful energy and positive intent through a multi layered and multifunctional design exercise.
The threshold creates a sense of entry while filtering the public domain from the workspace. A carefully constructed series of screens and partitions form a fluid CURVE. A dynamic backdrop to work in, it binds the spaces together as an architectural intervention, both functional and aesthetic. It offers privacy and transparency through a graphic motif that is spread along its length.
The work space itself, becomes the heart of the office, flanked by the conference and the supervisor's office, it flows seamlessly into a series of breakout spaces. The 'REC ROOM', with the library opens to a fairly large sit out facing the road. This space can easily be converted into a stand-alone workspace to house related facilities in case of expansion.
Beyond the curve, towards the south side are the technical and service spaces. The sound mixing and editing works along with the film recording studio.  The flipside of the curve becomes a counter and serving area for the cafeteria, a space that can be transformed to view slideshows, presentations and movies. It can also be used for workshops and seminars.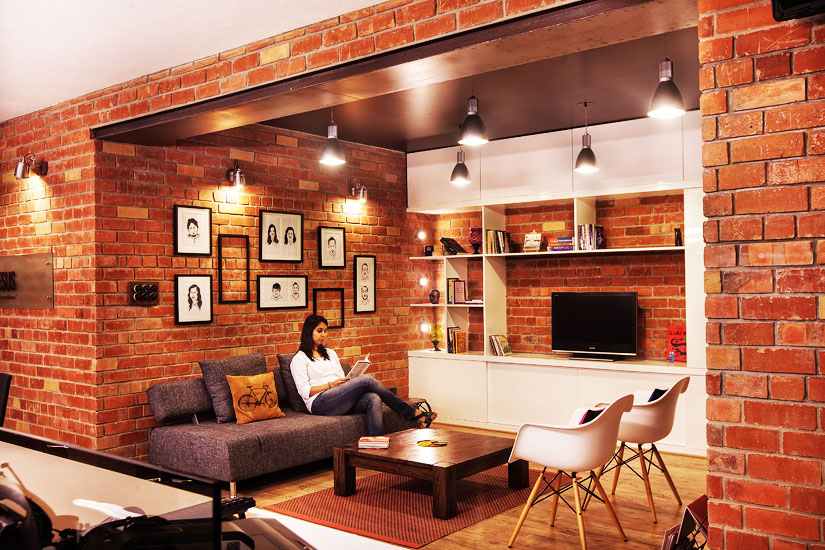 The palette of materials used are grounded yet sophisticated. Exposed concrete, brick, metal, timber and glass create an urbane working environment, while giving one enough freedom to personalize the space with posters, art, books and objects. Exposed ducts and light conduits reinforce the 'at-work' theme.
In its entirety, the new CVC office is  a  purpose driven space for creative independence and dependence, ideas and ideation.
[quote]Where thoughts turn into industrial light and magic.[/quote]

[author][author_image]http://www.howarchitectworks.com/wp-content/uploads/2014/01/Aatira-L.-Zacharias.png[/author_image] [author_info]
1leapingfrog
just turned one! Still in our infancy, we are driven largely by our curiosity and a sense of wonder that space-making has enabled us as designers. In the few projects that we have finished we have tried to be brave, bold, young and most of all, honest.[/author_info] [/author]