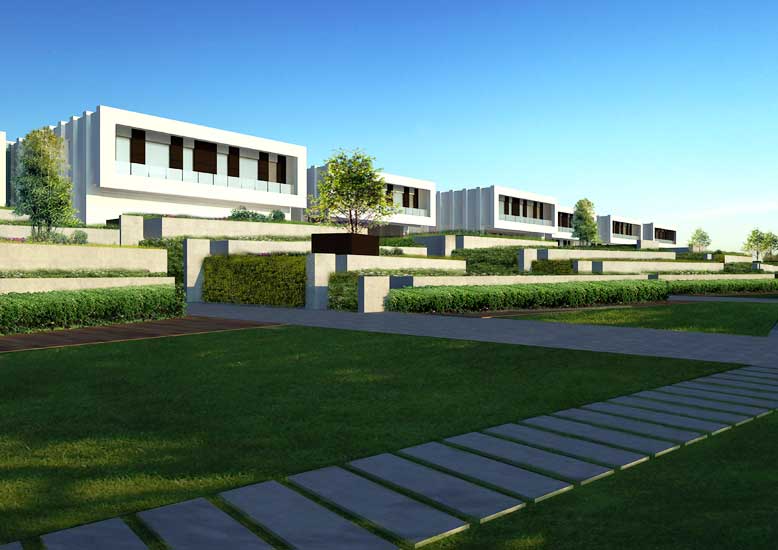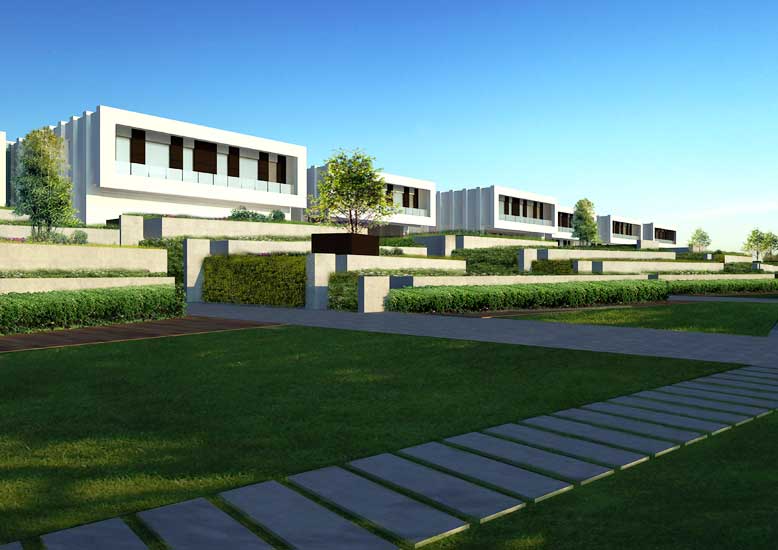 Architectural Group: Morphogenesis, New Delhi
Consultants-
Structure and Civil : Optimal Consultancy Services Pvt. Ltd.
MEP: Sunil Nayyar Consultants Pvt. Ltd. + Electro Consultants + ZSA
Lighting: Design Matrix
Security: BSI
Hospitality: HPG
Landscape Design : MESH+NMP
Client: Dharampal Satyapal Ltd.
Project Location: NOIDA – India
Project Year (Completion): 2014
Site Area: 16.0 Acres
Built up Area: 4,28,000  Sq.ft.
Project Type: Offices & Museum
Image Courtesy/Copyright: Morphogenesis
[dropcap]T[/dropcap]he Factory and Office complex takes a holistic approach to architectural design by  integrating energy conservation, occupant participation and economic performance as part of the building life-cycle to make it truly sustainable.
The proactive approach to sustainable design demonstrated in this project is radical in the modern Indian context especially in the way it blurs time-honoured distinctions between design and the post-design phase.  A green roofscape composed of staggered undulating berms dominates the site – nothing is more welcoming than lush greenery in the harsh climate of the plains of north India.
[quote]The Office complex uses environmental design to temper extreme climate changes prevalent in the region.  The low built-up requirement resulted in a built form and landscape shaped by laminar flow. The design of the complex is a marriage of traditional berming techniques and contemporary technology to achieve sustainability.[/quote]
The design transcends the established program by looking at how environmental design can be demonstrative in terms of performance, production, and community building.
Design and construction nodes draw from both traditional techniques and latest energy conscious technologies. Building orientation, wind tunneling effect, solar radiation; self-shading devices- all contribute to a cohesive attempt to minimize dependence on external, artificial sources of energy.
Bio-walls are a source of generating captive oxygen and berming the structure provides insulation and thermal efficiency. The outcome of the efficient sustainable practices incorporated in the design and use of traditional space-organizing methods (courtyards) with insulated shell techniques results in lower mechanical and electrical loads and subsequently in lower operational costs.
The combination of sustainable design features and the built form transforms the program brief into architecture that attempts to touch the earth lightly while almost disappearing in the earth. The slivers of built and unbuilt earth lend a unique character to the complex, where the act of building is in service to the larger and pressing goals of sustainable development.
Awards:
20+10+X World Architecture Community Awards, Winner. 2010
 
Publication:
Architecture + Design, July 2005
Architecture + Design, Special Edition 2009
Beyond (Hongkong), 2012
Descoll, June 2014
[author][author_image]http://www.howarchitectworks.com/wp-content/uploads/2012/10/Manit-Rastogi.png[/author_image] [author_info]
Morphogenesis
 is recognized globally as one of the leading Architecture firms from India. Founded in 1996, the firm is based out of New Delhi and is a collective offering specialized services in Architecture, Interior design, Masterplanning , Urban design, Landscape design & Environmental design consultancy.[/author_info] [/author]