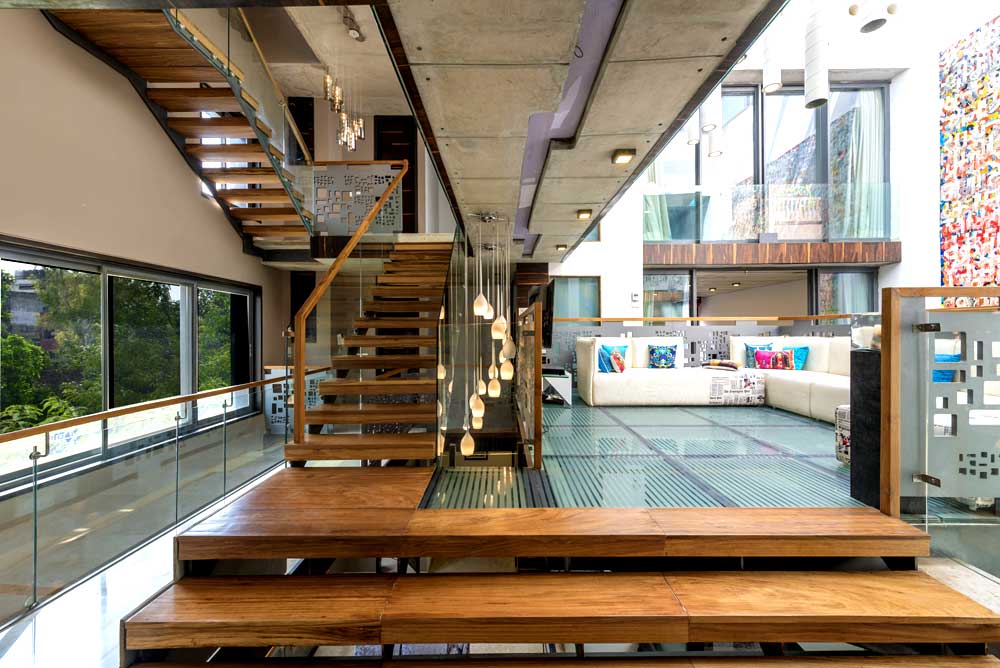 Project Name: House B123, New Delhi
Architectural Group: M:OFA Studios
Principle Architect: Manish Gulati
Design Team: Auro Ghosh, Tanvi Mehta , Erica D'souza, Sameeksha Gulati
Client: Mr Ved Khurana
Contractors: M/S Globe Civil Projects Pvt Ltd.
Structural Engineer: M/ S Globe Constructions.
Electrical Engineer: Mayank Gupta, ECMS
Plumbing Engineer: Somnath Behera, Behera and Associates.
Project Area: 12,500 sq.ft
Built Up Area: 8500 sq.ft
Project Type: Residential
Project Completion Year: April 2014
Photography: Dev Singh
Text: M:OFA Studios
[dropcap style="flat"]A[/dropcap]midst a bustling locality in New Delhi, on the corner of a residential street a landmark constituting of tangled electrical cables, pole and a ficus tree is unconsciously replaced by an architectural reflection of a family. This reflection is the B123 residence that efficiently cuts out the prevailing chaos and weaves a complex family arrangement together through its spatial fluidity.
IMAGE OF A HOUSE
It is a rarity in metropolitan cities to find in a family where 3 generations stay together. With the given familial arrangement where the owner being the first generation, his two sons with their respective spouses being the second and their kids being the third generation; it was important to provide each mindset a sense of private domain yet connect it in space and time to encourage mutual interactions so that the ever increasing families, even though divided by floors in plan the entire house gets connected through multiple cut-outs within the vertical sections throughout.
THE EYES OF THE OPEN COURTYARD
The house settles in the confine of a rectangular site abutting an existing house from the north-eastern side. This edge becomes a base for an anchor wall in coherence with remaining three perforated facades. Each of these facades have multiple yet optimised openings for natural light which is a key architectural element in this project.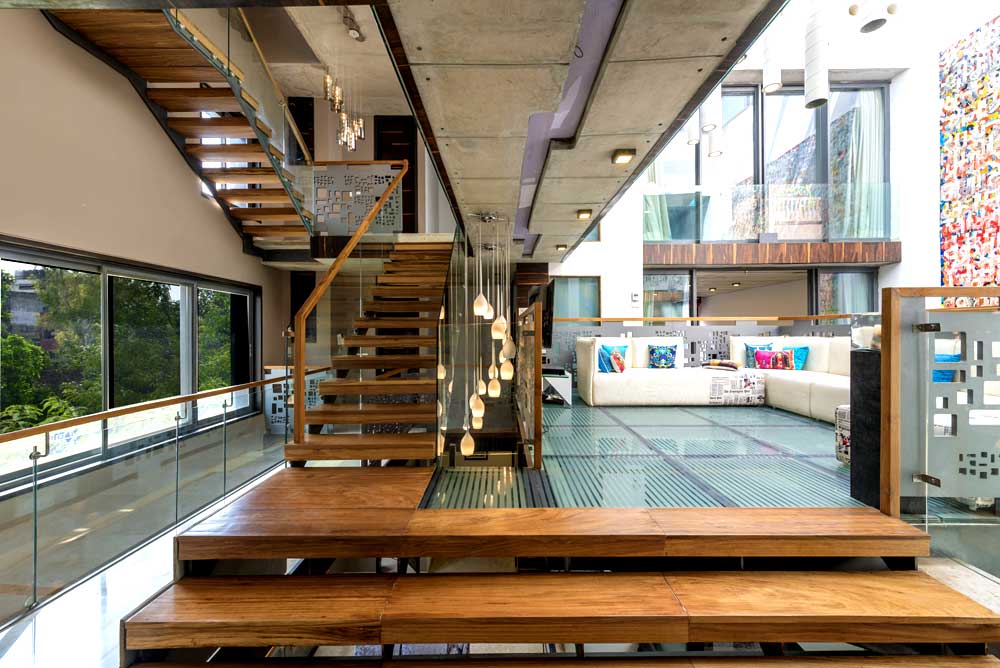 Treading the traditional route, the entire house is conceived around a single courtyard that forms a glass plunge pool on the ground floor. The pool behaves as a screen of light as it receives natural light from the same sized skylight above, on the terrace but also, gives abundant reflected and refracted light to the basement; turning it into a private gallery for social gathering.
The light is further enhanced within the basement by creating a sunken court towards the street. On the ground floor level the entrance is translated by an access bridge over the moat below. A sculpturesque yellow staircase connects the basement level to the floor above that function as a private parking facility and a hub for electro-mechanical services.
Steps leading upwards, to the raised ground floor which accommodates the main dining area and kitchen along with the master bedroom along with the glass pooled courtyard that boasts a colourful art piece on one wall that runs till the skylight on top and branches out at every floor into two bedrooms and seating areas. Similarly, the upper floors transmute into bedrooms and private lounge spaces along with connecting bridges. These bridges have unique steel cut-out railing which adds art with every movement along these pathways.
Adding a lyrical connotation within the stated precincts of the naturally lit courtyard, a glass lounge is suspended between the second and third floor. It is skewed from the grid plan and serves as a leisure space for reading and other rejuvenation activities. Complementing this structural element, hanging above the floating lounge is an exemplary innovation – an exposed air conditioning duct with multiple shafts carrying cool air stemming out of it; these also work as light fixtures and make it look like a piece of art.
Like a unique metaphor binding all the levels, on every floor the bedrooms with sliding glass doors overlook the courtyard and its steel cut-outs; this is an age old concept of traditional Indian Havelis that has been explored here in its modern interpretation.
VISUAL CONNECT TO HISTORY
Like an analogy to the city's history, the house B123, a family unit for three generation meditates on the terrace where the serene garden opens to magnify an enviable view of the Qutub Minar on one side and the Bahai temple on other side. These two pivotal monuments form a visual connect from one work of architecture to another. A disconnect from the immediate surrounding yet connecting to the dots in the past making it relevantly contextual to a larger context than what is easily perceivable to the eye.
[author] [author_image]http://www.howarchitectworks.com/wp-content/uploads/2012/09/Manish-Gulati_Profile.png[/author_image] [author_info]
Manifestation of Fluid Architecture (M:OFA)
 , places itself as a comprehensive architectural design and urban design firm where the focus is to remain at power with the contemporary global language of architecture & simultaneously spontaneously develop an indigenous design practice.[/author_info] [/author]