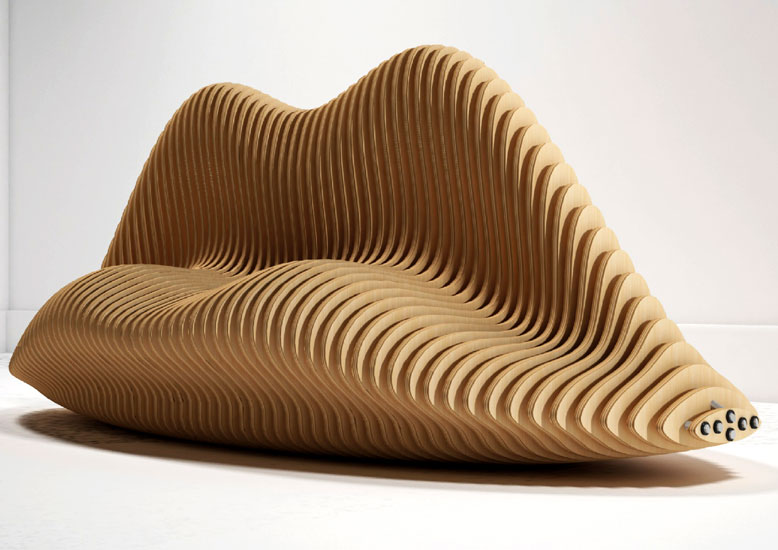 Project Name: LIPS BENCH
Competition: Admonter Challenge
Design Group: HKA | Hermann Kamte & Associates
Architect/Designer: Hermann Kamte
[dropcap style="flat"]T[/dropcap]he Lips Bench is furniture inspired by human body curves, especially feminine. This object clearly paints the movements of every exposed flexible structure in nature. The design can be mounted and dismounted easily.
The first step is to understand, Wood is one or maybe the most beautiful and sensitive material that can make people happy when seeing it. We always want to return to nature, take a break because our large cities sometimes seem as a tiny cage. The bench wants to recreate these lost emotions.
The second approach is to say; not only as a manufactured bench may sometimes design be evocative as an art, a powerful pledge for our lifestyle. Yes, we need manufactured objects because of their ergonomic and series production; but we also have to create some crazy and amazing product as Lips Bench. 'It could be a present for Valentine days, or other similar events."
It offers visual aesthetic and flexible seating options for all types of locations (Indoor to your home and garden; Outdoor for public areas).
This is a modular and adaptive design. It can be produced in any size and for several scales. Children and Adults can benefit from its smoothness and its elegance. This bench can make a great addition and transformation to your interior space.
MORPH – LIPS KISS
How to give a big kiss to your home or your public space? The design is a light touch of transformation.
STRUCTURAL – FIX AND FLEXIBLE RODS
There is one fix rod (red) and Other Three Flexible rods (white) to carry and to connect each piece of plywood.
FABRICATION – LASER CUTTING
Each piece of wood is unique. Laser cutting is the most efficient way to fabricate this amorphous design.
MATERIAL – PLYWOOD
Plywood has been chosen for its aesthetic, Flexibility and Sustainability. It is less expensive, available in various thicknesses and recyclable.
Visit Website: https://www.hermann-kamte.com/