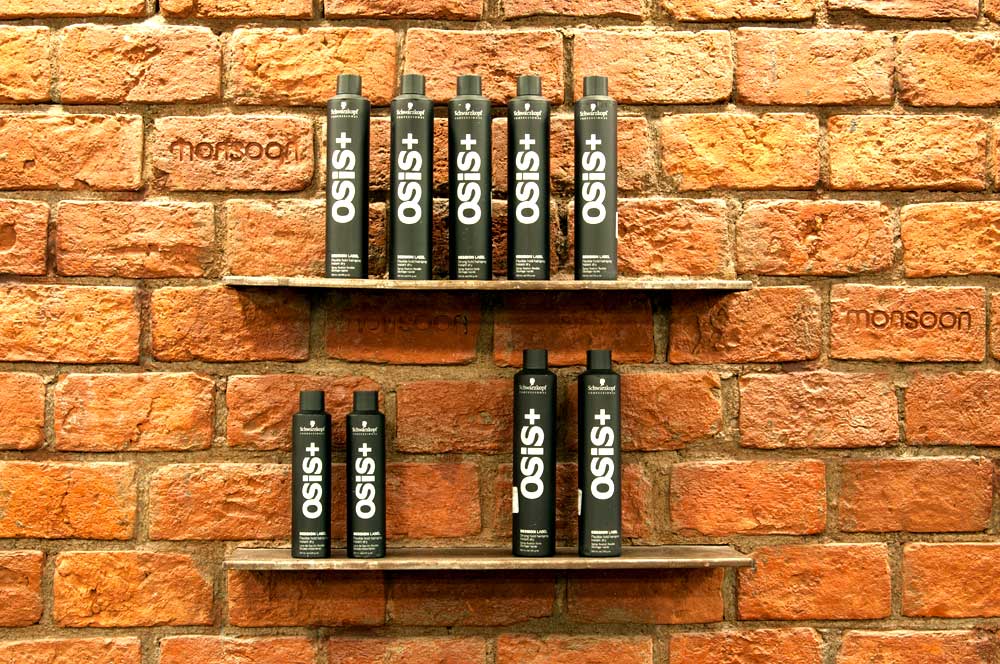 [et_pb_section admin_label="section"] [et_pb_row admin_label="row"] [et_pb_column type="4_4″] [et_pb_text admin_label="Text"]
Project Name:
Monsoon Salon, Gurgaon
Architectural Group: M:OFA Studios
Principle Architect: 
Manish Gulati
Design Team:
Neha Singhal, Nishant Rana
Client:
Monsoon Salons & Spa
Project Area:
1400 sq.ft

Project Type: 
Retail Design, Salon & Spa
Project Completion Year:
January 2015
Image Courtesy/Copyright:
Dev Singh

Text:
 M:OFA Studios
[dropcap style="flat"]L[/dropcap]ocated in urbane locality inside the premises of a high end mall as stand-alone set ups across NCR and creating a unique yet continuous identity of an established brand. It was to redevelop a module but every space comes with a set of exclusive requirements and restrictions and the product of design will always be different. The industrial looking environment where the use of wood planks and exposed brick walls with controlled lighting intends to relax the senses, connecting the context of a busy city and contradictory nature of the services provided in the space.
Since Monsoon is a new entrant in an already over cluttered market of salon and spas, the challenge that was put forward to us as a Designer Studios was to impart the Brand Identity with a unique unrivalled vocabulary of design that's concurrent with philosophy of Monsoon. Segregation of the spaces of seclusion and activity was to be put in such a manner that both of these will seamlessly mingle to attain both the senses of Individual Escape and a Happy Mayhem.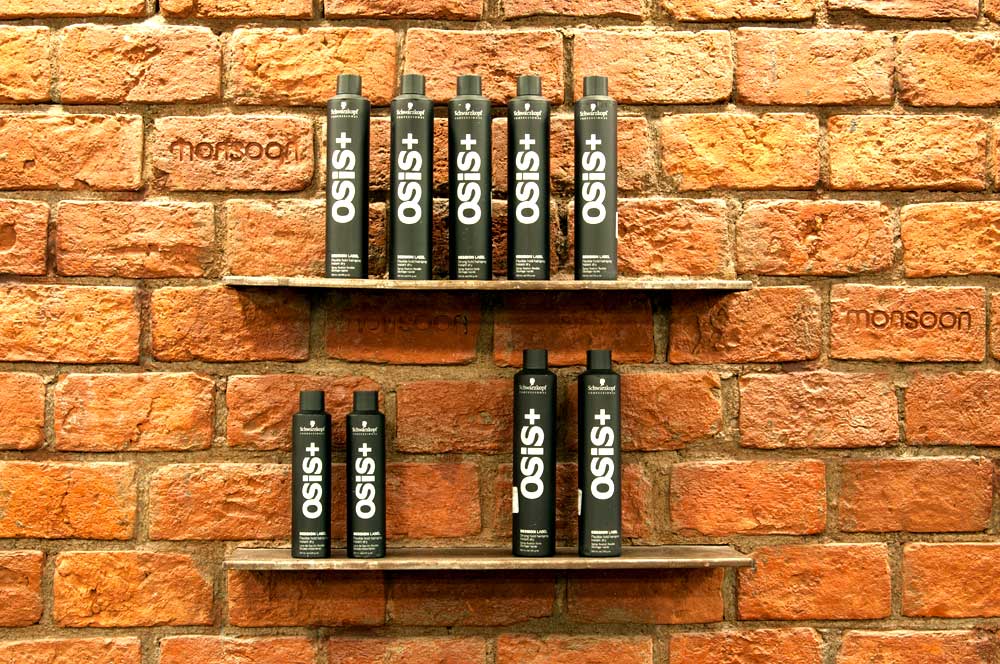 The design intent was to establish a profound identity of the start up brand; Monsoon and to impart it with a unique upbeat language synchronous with the label's work ethics, making it one of its kind in an already overcrowded and thriving sector of salon and spas.
The concept is born out of the idea of post monsoon effect after a course of scorching summer heat. The Idea of rejuvenation behooves with the salon services while infusing similar lines of thought in the designing of the interiors.
The selection of material is kept to its purest tone and form. Red corporate color of Monsoon is averted and a fairly clean and neutral color palette is introduced in the interiors.
Materials-Recycled Shipping pallets ,exposed RCC finish, Railway sleeper recycled wooden partitions, epoxy floors, the trademark signage work created in MS laser Cut at the entrance with use of different typefaces, the display shelf in MS and glass and striking use of engraving the word monsoon over selective bricks for the brickwork.
Design
Contrary to the designing of Monsoon-Rajouri Garden where the interiors are dotted with splashes of color red juxtaposed with eclectic design elements popping out as a scene abuzz with life. The ideation for Monsoon Ambience was done in a way that we kept bare essentials, discarded the fuss, and came out with a more abstracted outlook, yet exemplifying the brand's Identity.
Extensive use of wooden planks and exposed brick walls with controlled lighting plunges to relax the senses, serving as a sanctuary to pamper you outright. It ideally connects the context of a busy city and contradictory nature of the services provided in the space.
One enters a modest reception arched by the signage of multiple Monsoon created in MS laser Cut at the entrance with use of different typefaces. This opens into semi-rejuvenation zones where the elements of light, clean epoxy floors with display shelf and in-lit mirrors, all mounted and suspended from the ceiling makes the whole space lighter visually. These suspended shelves also act as partitions between the semi- rejuvenation and rejuvenation which create the privacy but let light pass through making it aptly lit and airy.
The continuous open plan divided in two distinct sections; nail and hair styling as dry areas, pedicure stations as wet areas along with facilities of 5 beauty rooms resulted in an evitable visual linkage between the brand prompting connectivity at large. 25% cost of the project was reduced in comparison to other salons, as the furniture was customized (be it fixed trolleys or internal wall).
Back to back in-lit mirrors where artificial light is evenly washed to brighten up the atmosphere divides the space yet keeps it open and aglow.
Awards/Recognition: IIID Anchor Awards 2015 (Leisure & Entertainment)
[author] [author_image]http://www.howarchitectworks.com/wp-content/uploads/2012/09/Manish-Gulati_Profile.png[/author_image] [author_info]
Manifestation of Fluid Architecture (M:OFA)
 , places itself as a comprehensive architectural design and urban design firm where the focus is to remain at power with the contemporary global language of architecture & simultaneously spontaneously develop an indigenous design practice.[/author_info] [/author]

[/et_pb_text] [/et_pb_column] [/et_pb_row] [/et_pb_section]