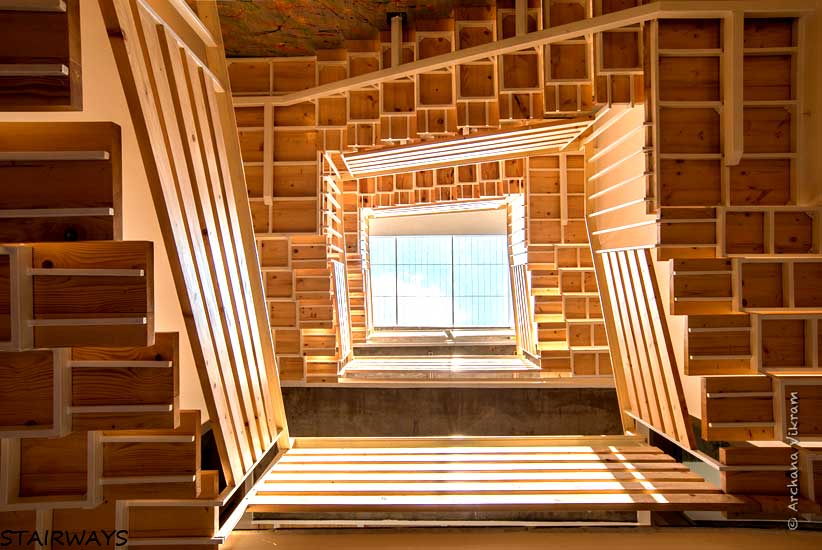 Project Name: Namma Manae, Bengaluru
Architectural Group: Entorno Bengaluru
Architects/Designers: Alok S Sundar, Chethan Kumar K.B, Santhosh N Madbhavi
Consultants: IDENTITY CONSULTANTS
Client: Sundar Family
Project Area: 150sq.m
Built Up Area: 350sq.m
Project Type: Residential, Interiors
Project Completion Year: 2015
Photography: Archana Vikram
Text: Entorno Bengaluru
[dropcap style="flat"]T[/dropcap]he brief was on the lines of vaastu, natural elements, basic expression of materials, open plan & low cost. The idea was to create volumetric spaces to accommodate two generation's requirements & create a sculptural space with bright, airy and segregated public and private spaces. The central triple height living is naturally ventilated with skylight on 4th level, which allows direct sunlight and makes the hot air escape.
The central skylight also creates a shadow effect as per the sun path, each day the shadow changes and gives different visual lighting effect throughout the day. In the upper level, the two volumes and staircase connected via bridge which give you a sense of infinity and effect of floating while walking. The natural elements amalgamated to create a structure which is fulfilling all the requirements based on vaastu and keeping in mind the budget was the main concept of the design.
The Bedroom
The bedrooms are designed to fuse all the natural elements and materials in a suitable and satisfying way to get the desired effect, i.e, usage of pinewood furniture, raw kota stone flooring polished, RCC roof exposed and simple plain white wall which accentuates the materials used.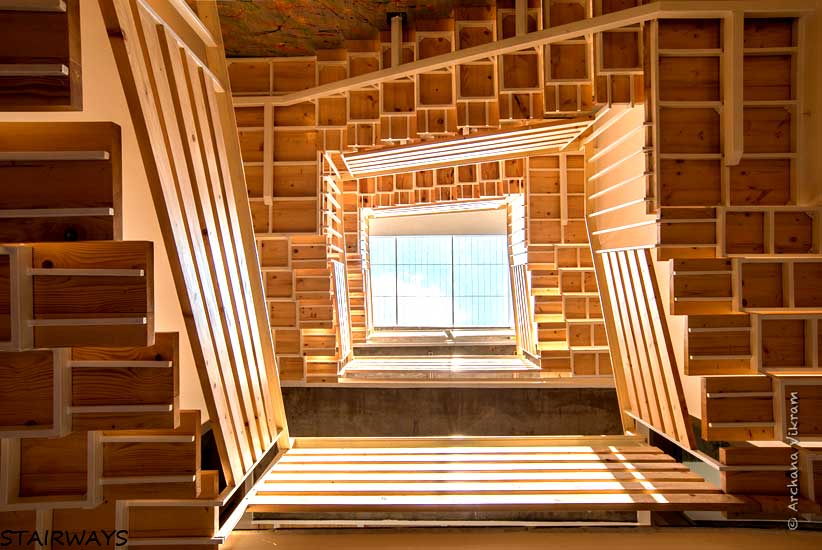 Entrance
The huge and gigantic entrance door invites us into a lobby which gives you a sense of calmness because of the landscape playing a major part in the design without affecting the daily usage of the space. The lobby acts as a connecting space to the living and the car park. The landscape, artifacts, pinewood furniture adds life to the spaces without affecting too much on the budget.
Living
Living is the breathing space of the house which connects all the levels into one which opens to the natural grandness of the sun. the living space extends into the puja and the dining on the other side.  The linear exposed RCC wall with pine wood staircase which connects all the levels acts as a main element in the living which accentuates the usage of raw materials.
Puja
The puja extends on to the compound wall in which god is not enclosed in anyway. It is covered with glass roof with MS work which acts as security, opens up to the sky amidst natural spaces of plants on both sides of the puja.
Dining / Kitchen
The dining / Kitchen is surrounded by huge grill less windows and doors. The Dining table acts as a makeshift Island counter for the Kitchen. The Light fixture is designed to accentuate the materials used for the dining table and kitchen without losing its importance as an artifact more than just a light fixture.
[author] [author_image]http://www.howarchitectworks.com/wp-content/uploads/2016/10/Entorno_Architects_Bengalur.jpg[/author_image] [author_info]
Entorno

Bengaluru
is a multi-disciplinary, design studio founded by Alok S Sundar, Santhosh Madbhavi,& Chethan Kumar KB in 2013, offering services in architecture, interior design and furniture design. We give importance to light and ventilation, space planning and arrangements of programs.[/author_info] [/author]