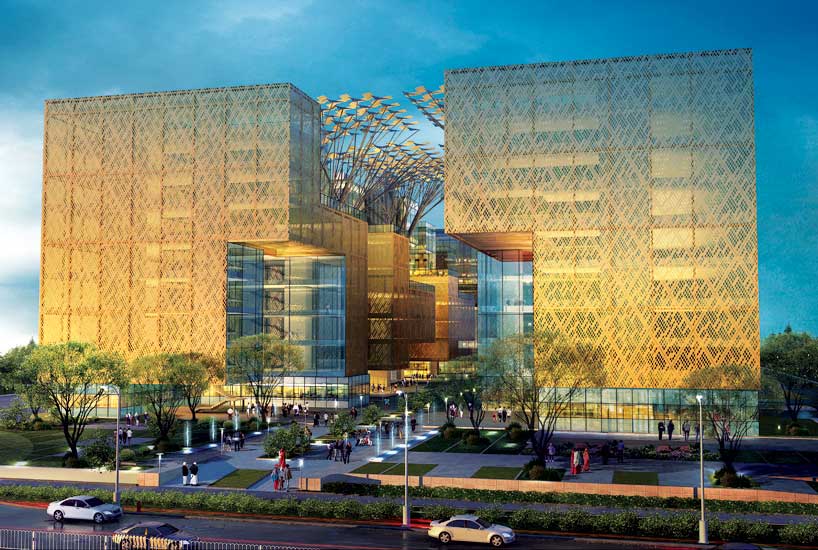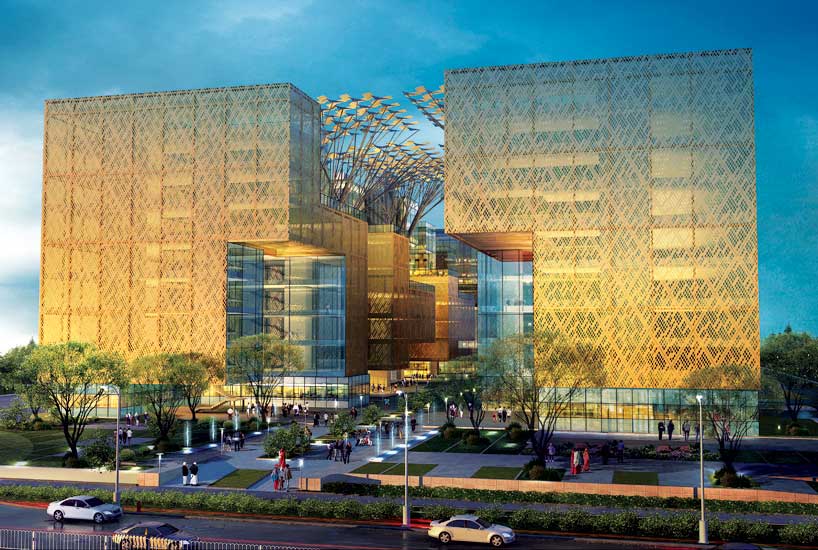 Architectural Group: Morphogenesis
Architects/Partners: Morphogenesis
Client: Government of India, Ministry of Finance-Dept. of Revenue
Project Location: New Delhi (India)
Project Year: Unbuilt
Project Area: 9,82,000Sq ft
Project Type: Office Space
Climate:   Composite
Image Copyright/Courtesy: Morphogenesis
News Source: From the office of Morphogenesis
[dropcap]D[/dropcap]elhi, through the ages, has seen the idea of the urbanscape changing and adapting to new realities. If Shahjahanabad was to be a garden of paradise, and New Delhi emblematic of imperial power, then perhaps Delhi as we know it today ought to invent its soul from democracy – and therefore the concept of 'inclusion'. [quote style="1″]There is, of course, nothing new about the idea of inclusion, but there is a need to understand what operationalises inclusion in a planning or architectural context…[/quote]
But we can set up a stage for organisation of built space in a manner that allows easy comprehension of structures of authority and infiltration of such bastions with chance events that may eventually transform the way we use our cities.
The design approach by Morphogenesis, New Delhi attempts at providing a model for future urban transformation in the zone; by attempting a solution which deals with planning constraints and future increased densification which is not use-dependant but reconfigurable for , various building types while maintaining the immutable avenues of New Delhi. Possible systems of integration, permeability, pedestrianisation, contextually relevant typologies are looked at and an urban edge is envisaged in order to operationalise inclusion. Time-tested, traditional spatial and environmental schema of streets, courtyards and terraces are re-introduced to resolve issues of privacy and segregation while maintaining live building edges. A multi-building concept is adopted on site which breaks up the scale of the total built area into manageable units and presents a more optimum scale to the issue of densification of New Delhi. Gravitas is derived from a unification of the facade treatment – an almost atonal monumentality befitting its purpose. On the inside, the street comes alive with public uses, courtyards, sculpted terraces, environmental conditioning and landscape.
Double-aspect Floor plates, of 9 metres width are configured to allow for flexibility and maximum efficiency. Vertical circulation is shared between two buildings which allows for greater flexibility in program distribution. Deep floor plates and centralised vertical cores would be inappropriate for this program as they would result in poor day-lighting conditions in most of the offices in case of deep floor plates or central cores. The programmatic distinctions of the two directorates, their departmental area requirements, the ministerial accommodation, and the support facilities are all organised in the same format to allow for flexibility. The multi-building format adapts by joining and segregating at the cores to give individual identities to the directorates, and to the ministers' building, while unifying the appearance of the building.
The ground floors under all the blocks get populated with public uses such as conference/meeting rooms, gyms, food court, library, creche  information centers and other facilities linked together by the main pedestrian street which connects to the main roads on both sides. The street leads to private gardens and other open spaces that become part of the complex open space structure. The offices open out to terraces at multiple levels bringing the open spaces close to work environments.
Vehicular movement is restricted to a large extent to the two corners on the main roads and the remaining site is rendered pedestrian.
Security has been kept in mind while designing access systems and the offices are accessed through separate lobbies on the ground which restricts movement of unauthorized persons.
[pullquote align="left"]Environmental sustainability is a core principle of the design as an underlying value that informs every aspect of the design. Passive systems are created to address site planning, envelope design, shading, and built space efficiency while taking care of wind penetration and complete day-lighting of all areas.[/pullquote]The impure orientation and its resultant insolation conditions are tackled with a jaali wrap on the external surfaces of the building. This second skin sitting at a distance of 600 mm from the principal facade acts as a sun-breaker and generates a ventilated shaded zone between the external envelope and the outside, keeping the building naturally insulated and cool through the hot summer months. A similar strategy is employed over the internal spaces where a structure that is reminiscent of the tree canopies of New Delhi covers the internal street with shading fabric. Complete rain water harvesting augments water sources and reduces fresh water use during rains.
The active systems used range from state of the art building services to simple tools for generating a micro-climate within the complex. These involve using a structural cooling system for air-conditioning that reduces air-conditioning installation by 50%, a recently developed soil based technology for sewage treatment, use of vertical cores as cooling towers and in turn cooling the internal open spaces due to water evaporation, and use of solar powered photo voltaic panels for electricity generation. Soil Biotechnology (SBT) is an indigenous technology for sewage processing, recycle and reuse of processed water in a sustainable, cost-effective manner, specific to the Indian climatic, social and environmental conditions. Besides the process being natural, it depends very little on external energy sources and conserves the same. Though SBT's functioning is aligned with nature, it is intensive enough to fit in a typical urban scenario that is scarce on space.
The building is envisaged to be finished with natural materials as far as possible. An understated elegance achieved with use of local stones, simple plaster and painted surfaces, clear glass and glass reinforced jaalis is the proposed palette. Interiors are to be finished with durable and maintenance free materials as far as possible.