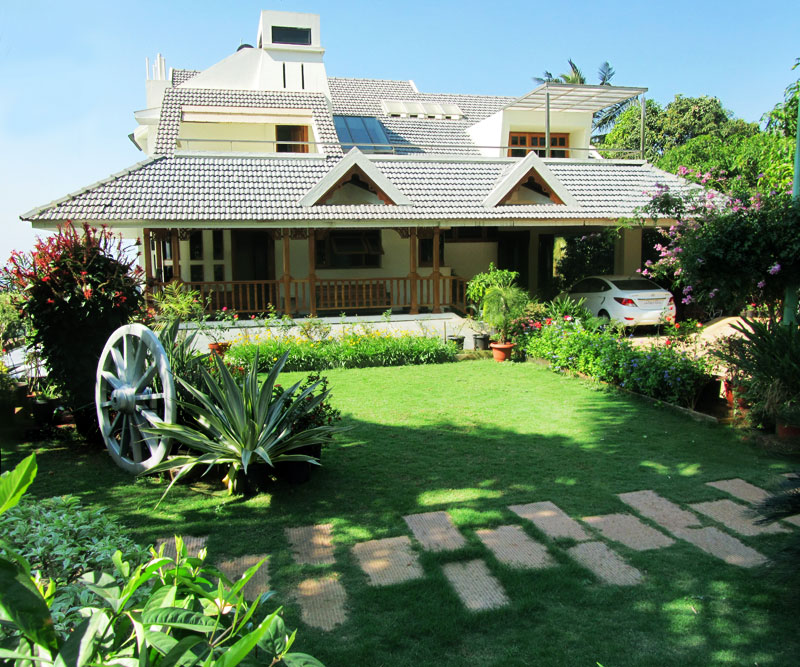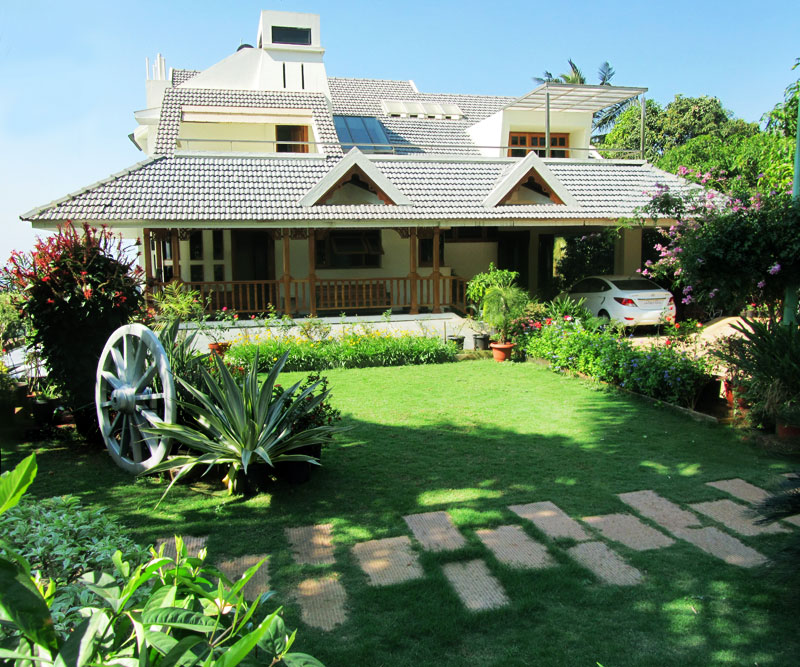 Project Name: Solkar's Residence, Ratnagiri
Architectural Group: DESIGNEX, Kolhapur
Architects: Anand & Ashish kulkarni
Client: Maqsood Solkar
Project Location: Ratnagiri, Maharashtra, India
Project Area: 960 Sq.M
Built-Up Area: 450 Sq.M
Project Type: Residential
Project Year (Completion): 2012
Image Courtesy/Copyright: DESIGNEX

[dropcap]T[/dropcap]his bungalow is located in the western coastal area of Ratnagiri in Maharashtra. The site itself created a challenge for architect to design. The site is located on a west facing cliff with an infinite sea view with no obstacle forever. The site has slope downwards from East face access road towards west side giving opportunity to multilevel planning.
The client is the person with keen interest in detailing with a good taste for trends. Therefore it was the architect's job to plan with the most innovative concept and fulfil the client's requirement without harming the konkan traditional sloping roof pattern with contemporary touch.
The basic concept and necessity was to build the house with not extruding the building more than 8 to 9 metres above road level, which would have blocked the sea view for the buildings on opposite sides of road. Taking into consideration the slope of site the main entry level is designed on the first floor with all living areas such as formal and casual living room, kitchen/dining, kitchen and master bed.
The upper floors are designed to have private beds and hobby room and terrace. The rooms are planned and oriented with a 45 degree chamfer to building to forcedly widen the sea view from each room. Therefore we created a big glass pane without safety grill and supports to give a picture frame effect. The dining area is provided with the double height having toughened glass roof to provide daylight and save the natural resource atleast for daytime. Also it has been provided with the louvers at the roof bottom and allow hot air to rise and pass through, giving the floors a fresh air inlet through the louvers provided at the doors bottom for every room.
The konkan region being highly humid area, the airy planning is the basic need. The skylight provided on dining allows passing sufficient light to the living areas as well as the private areas on upper floors. Also this double height helps to keep the connection and interaction between two floors.
There is a lower floor below the living areas, which is not visible from road but accessible from inside and separate entry from ramp. This also helps to imagine the house of being only of two floors hiding the third one below ground, but it also has the same ambience with sea view from west side.
On site the location of bungalow is kept little far from road to allow and create green space in front. This will also treat as buffer screen for privacy. In fact the roofscape is more enhanced with building emerging from green.
[author][author_image]http://www.howarchitectworks.com/wp-content/uploads/2013/12/Ashish-Kulkarni.png[/author_image] [author_info]
Designex 
is a Kolhapur-based firm established in 2010 by partners Anand Kulkarni & Ashish Kulkarni. The firm provides design solutions in Architecture and Interior design. The firm deals in the areas of residential (individual and multiple), commercial, institutional, hospitality, health, sports, townships, religious, industrial, etc. with its multi-disciplinary and experimental approach.[/author_info] [/author]