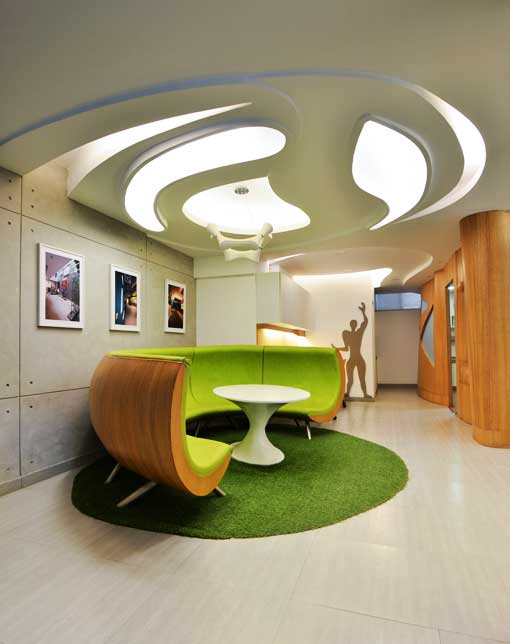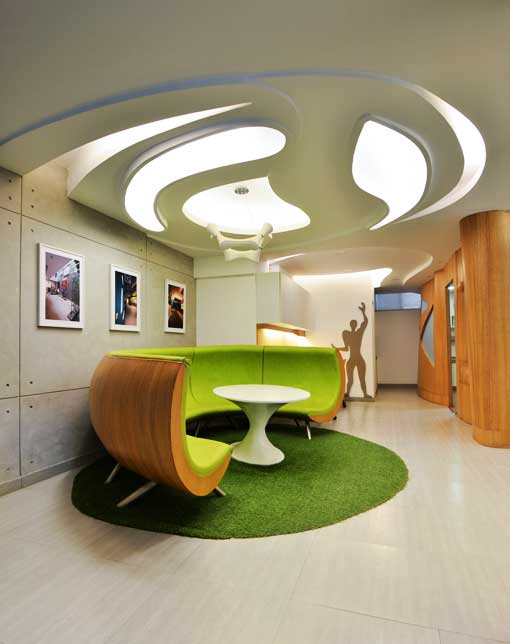 Architectural Group: SPACES ARCHITECTS@ka, New Delhi
Architects/Designers Name: Kapil Aggarwal, Pawan Sharma, Chander Kaushik and Karan Arora 
Client: Mr. Kapil Aggarwal
Project Location: New Delhi
Project Year (Completion): 2012
Total Area: 1500 sq. ft.
Built up Area: 1500 sq. ft.
Project Type: Office Space
Image Courtesy: Bharat Aggarwal
[dropcap]A[/dropcap]n Architect's office of 1500 sqft.  In basement has been conceptualized as an open office, the office space on two levels, and the lower to be used as workstation. The office design was conceptualized to be place, which being a leisure is also conducive for people to work in a creative environment, a workplace to enjoy.  The zoning of spaces is justified keeping the main cabin with attached conference at the rear to maintain privacy as well as visually connecting it to front office. As the front office space is narrow with regards to rear part, the front space is used as a gallery with walls in cement finish highlighting the project display.
One moves down from front entrance highlighted by fixing glass roof penetrating ample light into the interior space. A raised platform has an informal conference designed by fixing multiple diameter steel pipes with an abstract panel ceiling.
The flooring and walls at the front office is kept as cement finish to give emphasis on display panels. An abstract partition acts as waiting, continues on the ceiling extending into multiple abstract boxes displaying different firm's design ideology.
The lower part has open workstations connected by cantilevered wooden steps, the opening from front office looking towards the lower floor frames it. The lower part in contrast to the upper being designed in white tone. The reception table has an interesting form with backlit glass panel. A bookshelf displaying firm's project is placed opposite to it.
A green space with grass flooring and elliptical seating space is used as breakout space in the interior and used for reading books. Two workstations for senior architects are designed behind the seating.
The most interesting part is an experiment with designing of the main cabin outer partition in a fluid form with veneer cladding continuing to the conference room ceiling. The partition is inclined at both the planes and takes an interesting form. The conference and cabin has a glass sliding folding partition which when pulled acts as individual space.
The ceiling plays an important role in the studio creating a visual transition. As the ceiling near the reception made of multiple box panels continued to the ceiling in abstract form displays a journey of different projects and ideology of the firm. Similarly, elliptical ceiling over the reception has a hanging model inspired by Architect's Thesis Project being a focus in space. The circular seating in green area is reflected on the ceiling in an abstract pattern continuing in the rear space.
Awards/Recognition: Published in A+D Magazine, Home Trends, Custom Made office – II
[author][author_image]http://www.howarchitectworks.com/wp-content/uploads/2014/04/Kapil-Aggarwal.png[/author_image] [author_info]
SPACES ARCHITECTS@ka, an international award winning architectural firm, established with a vision of creating sensible, functional spaces enhanced by the intangible sense of emotion, of power, of playfulness. 
[/author_info] [/author]