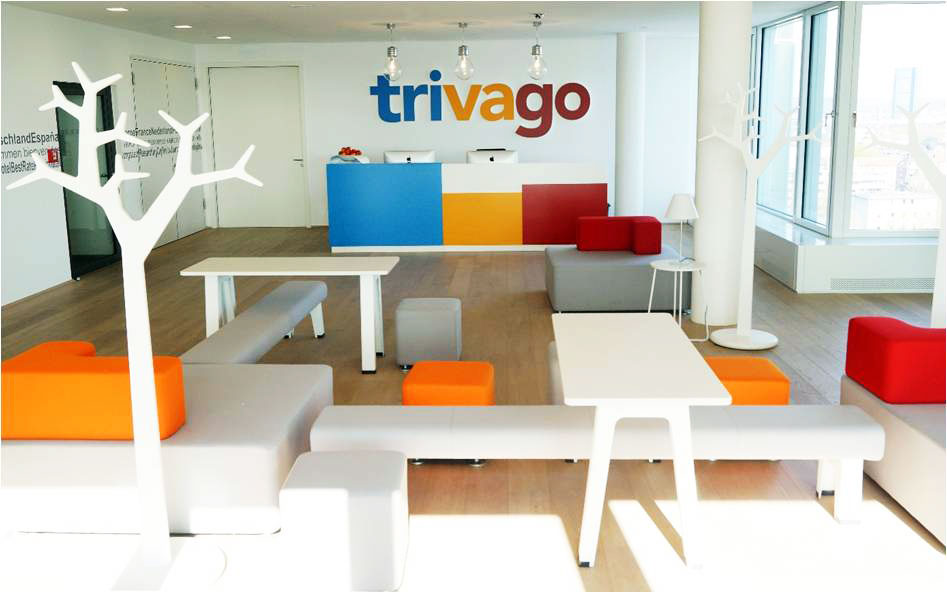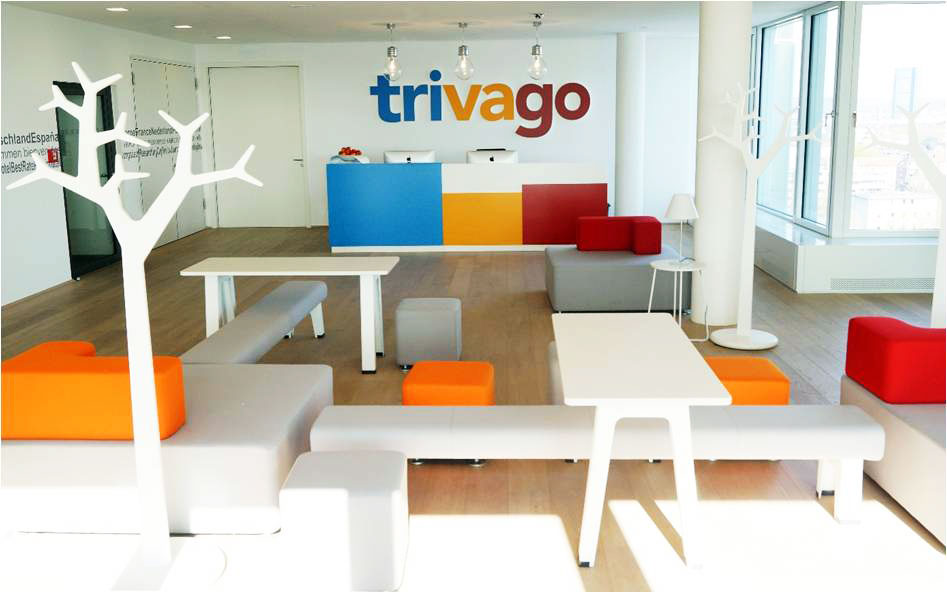 Architectural Group: Das Raumatelier
Architects/Designers Name: Verena Hasiewicz and Marleen Goldemann-Sabbak
Project Location: Düsseldorf, NRW, Germany 
Project Year (Completion): 2015
Project Area: 3000 square meter
Project Type: Office Spaces
Image Courtesy: trivago
Headquartered in Düsseldorf, Germany overlooking the river Rheine, are the trivago offices. With employees from over 63 Nations working for the hotel search website trivago, the company has a very international and dynamic working environment. The office design inspires one to be happy, healthy and productive.
The Urban-Vintage style office, designed by raum.atelier, has created spaces like: the innovative meeting rooms, out-of-the-box think-tanks, spacious kitchens and various hobby rooms. The office design was conceptualized to be a place that while being cozy, also provides a scope of growth for creativity and innovation.
The building enjoys natural daylight from all the sides, while each floor is equipped with automatic window shutters, which roll down when there is direct sunlight.
The kitchen is a relaxed, fun spot to catch-up with colleagues, play pool, kicker, x-box and even host parties. There are colorful kitchens on every floor, which are themed based on different cities around the world.
The oriental kitchen, for example, has pictures of trivago employees hanging on the walls. The concept was to give each room a personal and creative touch.
Many of the walls are painted with different city names and various activities with which the trivago atmosphere is synonymous—including sports, travel, creativity, adventure, barbecuing, nature and celebrations.
Each meeting room is named with the city where some of the first trivago employees were born. The uniquely crafted interior has a strong emphasis on attention to detail.
The 'Yoga Room' is an example of a quiet and serene think-tank, where the employees can come and work in peace.
Think-tanks for brain-storming sessions or spontaneous meetings are provided to improve communication and foster productivity. The walls are decorated with innovative pieces to inspire creativity and increase motivation.
There are also nap rooms equipped with bunk beds, so employees are able to relax and rejuvenate. The trivago office is indeed a second home to its employees, with many stress-combating spaces to improve their working atmosphere.
Visit trivago website.