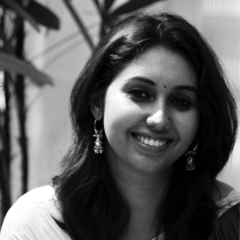 [dropcap]1[/dropcap]leapingfrog just turned one!
Still in our infancy, we are driven largely by our curiosity and a sense of wonder that space-making has enabled us as designers.
In the few projects that we have finished we have tried to be brave, bold, young and most of all, honest. Ofcourse, the burden of practice is upon us all, but we have tried to shed this weight. As a teacher of ours once said, "leave the baggage outside the door" – best advice we ever got.
[quote]'Space' remains a magical notion for us. We try to treat it without bias, giving each idea a chance to evolve into something larger than who we are. We bring to each project our collective consciousness – poetry, music, food, movies, art, travel, love, loss, memories, friendships and life itself. These have been our inspirations, especially in those moments of turmoil that haunt any designer, young and old alike.[/quote]
We would like to be known as people who come up with good ideas and then oversee execution to perfection, be it for a building or a city, a living room or the backyard, or just about anything. That is afterall, the underlying thread that connects us all – the seduction of a good idea!
Our brief foray into interiors and architecture has taken us back and forth through several endearing moments – from the atmospheric to the subtle, from the bold moves to work tempered by restraint. We are still oscillating between so many emotions that will craft our spaces as they do, us.
We only hope we dont stop making mistakes, taking risks and living with doubt. They are as important to a young studio as they are to a child.
Here's looking forward to many more birthdays!!
Principal Architect:
[note color="#e1e1e0″]
1Leapingfrog Studio, Bangalore
B-45, Block 1, Builders Apartment,
Old Airport Road, Opp. Leela Palace, Domlur, Bangalore – 17
Phone | +91 8050506310
1leapingfrog@gmail.com
[/note]
Specialization
Architecture
Interior Design
Product Design
Ideas
Year of Establishment – 2013
Do your offer Student Internship: Yes
Listed Projects: