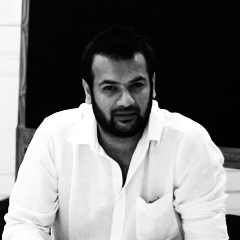 [dropcap]M[/dropcap]OVA 1 is an interior architecture and furniture design firm that seeks to promote inventive and polished modern living solutions. The design are cerebrally driven, and can be characterized as warm, minimal and finely detailed. From the concept to special planning and furniture working drawings, we derive artistic form from a combination of age-old mathematical proportioning systems and ergonomic precision. The final product seeks to maintain a balanced ratio of symmetry through asymmetry, stimulating contrast in materials and strict construction.
[quote style="1″]My interest in Design is particularly informed by a consciousness of the way interior environments influence human experience. I am always aware of how a meticulous design selection can promote and support spaces for harmonious interaction. This awareness is what motivates my practice[/quote]
Varrun Motihar, Director-MOVA1 Studio
Varrun Motihar has a Bachelors Degree in Economics, American University, Washington DC and a Masters Diploma in Architectural Interior Design, KLC School of Design, London.
MOVA1 Studio is a stand–alone property located in the heart of dlf phase1. The Studio has been conceptualized around a modernist idea of a 1930's English industrial gallery. We use the studio to showcase the diverse and distinctive ways any space can be used by regularly changing and re- arranging our collections. This practice allows for a subtle and radical way in which an interior can be designed.
[note color="#e1e1e0″]
MOVA1 Studio
42, Ashoka Crescent,
Golf Course Road, DLF Phase 1,
Gurgaon, INDIA – 122002
Phone | 0124-4477534/535
info@mova1.net.in
www.mova1.net.in
[/note]
Designers/Partners
Varrun Motihar
Specialization
Interior Design
Furniture
Listed Projects