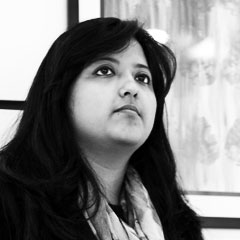 [dropcap]S[/dropcap]tudio AVT firmly believes in the uttermost importance of the space within & beyond rather than the built frame. We endeavor to design and develop an environment for stories to take birth and remain, where true feelings are captured and felt with a sense of belonging, only to resonate through time. "We intend to breathe" is what our motto is.
In the year 2009, Architect Ankita Sweety and Pratyoosh Chandan had initiated a firm of Design Consultancy situated in Delhi upon getting an opportunity to design a small architectural project. Since then there is no looking back. In such a small span of time Studio An-V-Thot has taken up and completed several Architectural and Interior projects in and around Delhi of varied nature, scale and sizes.
"An-V-Thot" is a hybrid of two words, (anvit) Sanskrit & (thought) English. "anvit" means followed by, so it is actually a studio followed by a thought, and as the name suggests both Ankita & Pratyoosh are always eager to and strive to define their endeavors in a thought evolving and settling manner.
Currently the Studio is engaged with projects ranging from a table design to a factory to residences to office buildings etc.
Ankita graduated with a distinction in her Architectural Degree and during the course, also won numerous National and State level Design Contests of repute. Since then she was associated with one of the leading design firms in New Delhi for two years and got further accolades. Her eye for a detail and efficient management are a few of her many strengths. She believes to be in a traditional ambience with a modern outlook. Apart from that she confidently holds the post of country's editing member for World Architecture Community.
After graduating in Architectural Technology & Construction Management from Rai University, Pratyoosh worked with an established firm in Delhi for two years wherein he led various design projects of diverse nature. Thereafter he co-created Studio an-v-thot with Ankita to provide design solutions. He went to the UK to further pursue his architectural critique, from University of Brighton, UK. His belief in the field of Architecture and his ability to convert a thought into reality has brought him many accolades over the time and the pursuit of excellence is on.
[note color="#e1e1e0″]
Studio An-V-Thot Architects
A-11, Second Floor, Shivalik, New Delhi, INDIA-110017
Phone | +91.98.1111.2739, +91.99.1111.2739, +91.11.26684240, +91.11.26684241
studio.avt@gmail.com
www.avtarchitects.com[/note]
Principle Architect/Partners
Ankita Sweety
Pratyoosh Chandan
Specialization
Architecture
Interior Design
Year of Establishment – 2010
Do your offer Student Internship?  Yes
Listed Projects: